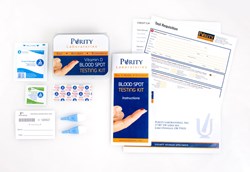 Purity's blood spot testing is an easy, minimally invasive test.
Portland, Ore. (PRWEB) December 31, 2013
Vitamin D insufficiency affects as many as half of the U.S. population. Researchers in almost every medical discipline are finding that vitamin D may have a role in preventing, mitigating or treating disease. Conversely, researchers say that vitamin D deficiency may cause a wide range of health problems. Because of this, a person knowing his/her vitamin D status is of the utmost importance.
Purity Laboratories, Inc. (Purity), a 45-year-old environmental and clinical testing laboratory in Oregon, will launch its new blood spot test for vitamin D levels in the body early next year.
Purity's blood spot testing is an easy, minimally invasive test. The patient will prick their finger and transfer blood from their finger onto a testing strip. The strip will then be sent back to Purity where it will be analyzed for the patient's vitamin D status. The test will look at both vitamin D-2 and vitamin D-3 levels, the two most important types of vitamin D in humans. This is a fantastic option for patients who are unable to receive testing in the traditional doctors office setting; including children, the elderly and those who are homebound.
Robert Guthrie introduced blood spot testing in 1963 and it has been used around the world to test infants for phenylketonuria. This was due to the fact that a blood draw was not realistic for babies. Blood spot testing has now been expanded to include testing for vitamin D, hormone levels, hypothyroidism, HIV and many others.
Purity's blood spot kit contains all the tools necessary to perform the test. It includes instructions on how to take the test, two lancets, a spot saver card, an alcohol prep pad, a surgical sponge and a latex free bandage. A requisition form and pre-paid return envelope are also included in the kit. When the test is complete it is placed into the pre-paid envelope along with the test requisition form and mailed back to Purity.
More information including pricing and how to order the test will be coming soon.
More About Purity
Purity Laboratories Inc. is an independent lab that focuses on both clinical and environmental testing. Purity has more than 45 years of experience in analytical testing and opened a clinical laboratory division in 2013. Purity's environmental laboratory division offers analytical testing of food, water and environmental products. It also has expanded capabilities for nutraceutical testing to address new Food and Drug Administration regulations for the nutritional supplement industry. Purity's clinical division provides doctors and patients the ability to order Vitamin D dry blood spot testing. It plans to add multiple other clinical dry spot tests in 2014, particularly, specialized tests for those with sensitivities or chronic illnesses.
Contact:
Kulani Mahikoa
V.P. Marketing
Purity Laboratories, Inc.
Telephone: 503-694-1600