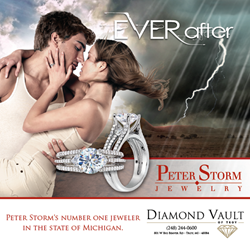 (PRWEB) December 31, 2013
Peter Storm Inc., popular jewelry designer and company, believes that designing jewelry is a science as he transcends it into an art. Peter has been in the business of designing jewelry for over 25 years, and it is something he enjoys every day. He has a bright and inquisitive mind that gives him the ability to turn an ordinary ring into something truly spectacular. Peter is offering a chance to win a $10,000 ring by liking his Facebook account, and sharing his post starting January 1st.
Peter Storm puts intrigue details into all his rings making them remarkable and one of a kind. He has a keen eye for details and realizes that open space, the space between the diamond and the skin, is the reason each diamond has an individual sparkle. Peter works alongside his wife Anne and at times, his children. Peter and Anne form an incredible team, each brining their own experience and enthusiasm to jewelry. To enter into his contest starting January 1st, please go to https://www.facebook.com/PeterStormJewelry.
Peter Storm recently named The Diamond Vault of Troy, his number one jeweler in the state of Michigan. Located on West Big Beaver Road, the Diamond Vault of Troy has become the most widely and positively reviewed jeweler in the state Michigan. Named Best Jewelry Store by the Detroit Metro Times and winning The Best Of award by The Knot two years in a row, The Diamond Vault is trusted by locals and is known for superior customer service and immense knowledge. The Diamond Vault of Troy is happy to accept Peter's endorsement. For more information on the Diamond Vault of Troy please visit http://www.diamondvaultoftroy.com.
About us
The Diamond Vault of Troy owners, Randall Cole and Timothy Mayer, combine their over 41 years of experience to provide customers with quality service and substantial savings on diamond engagement rings, customer wedding rings, diamond studs, wedding bands, and other beautiful diamond jewelry. Their boutique jewelers work closely with clients to create one-of-a-kind, signature pieces and offer free custom engagement ring designs. In addition to diamonds, the boutique also carries a large selection of fine gems, and as the top buyer of rare and valuable silver and gold coins, provides free consultations. Customers have given glowing reviews and 5 star ratings on many different websites to show that the Diamond Vault of Troy is their jeweler of choice. Their store is located in the Huntington Bank Building, 801 West Big Beaver Suite 103, Troy, Michigan 48084-5823. For more information, or to contact the Diamond Vault of Troy, visit our website at http://www.diamondvaultoftroy.com.