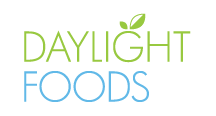 With our new specialty foods expert working with us, we know that we will be able to not only meet our customer's expectations, but exceed them.
Milpitas, CA (PRWEB) December 29, 2013
Looking back on 2013, there have been a lot of changes for food distribution company Daylight Foods. The company re-branded itself, which included a new logo, website and social media pages. There is a new interactive seasonal produce guide available for download on their website. They started taking part in more events and sponsored SF Chefs and the Eat Real Festival as well as provided demos for the International Culinary Center in Campbell.
A new specialty foods representative was added to the team to help customers source and pick new items. One of the first items sourced has been Guittard Chocolate which is revered for its quality and taste and is locally produced in Burlingame. All of these steps are guiding Daylight Foods into 2014 and preparing them for another great year and great growth. The first of this growth is in their product line where they will now be offering specialty cheeses.
Launching in January, Daylight's specialty cheese offerings will cover everything from Brie, Goat Cheese, Blue Cheese to Cheddar, Mozzarella and Parmesan. They will be working with the highest quality producers and focus on local producers whenever possible. Sourcing local is important to Daylight Foods as well as their customers. Supporting California farmers and producers is always a main priority when sourcing products.
Marin French Cheese Company will be their source for high quality and award winning Brie, Triple Crème Brie, Camembert and Schloss, a washed rind cheese with a strong aroma, rich creamy texture and robust flavor perfect paired with a local dark beer or California red wine.
Laura Chenel Chevre is produced in Sonoma County and is revered for its quality, taste and adherence to traditional French cheese making standards. Laura Chenel Chevre was the first artisanal goat cheese produced in the U.S. Daylight will feature their Chef's Chevre, award winning Cabecou, Taupiniere and plain goat cheese logs.
Following in line with Marin French Cheese Company and Laura Chenel Chevre will be Point Reyes Blue Cheese. Point Reyes is venerated for their delicious and award winning Blue Cheeses and Toma which are used by top chefs across the country.
The need to offer cheese was clear to Daylight Foods. "It's our goal that our clients are able to depend on us to carry the products they want and need. Cheese was the obvious next step to add to insure we meet this goal," explained Stephanie Macedo, Director of Marketing at Daylight Foods, "With our new specialty foods expert working with us, we know that we will be able to not only meet our customer's expectations, but exceed them."
About Daylight Foods
Daylight Foods purchases direct from the most reputable growers and shippers in the industry. Their direct purchasing and high quality standards enables them to continually pass on value to their customers' operations; supplying fresher, higher yielding product. Daylight Foods takes a special interest in local growers and family farms, as well as in "green" technology, to support their local communities and sustainability for future generations.