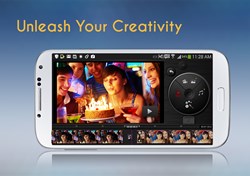 KineMaster offers a wide range of editing functions through an easy user interface
(PRWEB) December 30, 2013
At the end of the festive season, many smartphones are full of long videos and photos piling up – now there is an easy way to edit and share from Android phones. NexStreaming's KineMaster app can help turn those holiday moments into a relevant masterpiece in a matter of minutes.
When opened, KineMaster walks users through the movie making process, from picking all the videos and photos desired to selecting from the offered Themes to tell the story. The KineMaster app automatically adds built-in music and transition effects for the chosen Theme and creates a memorable video instantly. More Themes are also available to download from within the app and the selection will be continuously expanded.
For the advanced users wishing to create a video in their own style, KineMaster offers a wide range of editing functions through an easy user interface. Real-time videos and photos can be added in the middle of editing, or users can play DJ and mix the existing videos, images, and music on their phones.
KineMaster supports up to full HD (1080p) videos and provides various transition effects (including Picture-in-Picture and 3D flip), image panning and zooming, handwriting, stickers, and any other editing features a budding smartphone filmmaker might need. Leveraging device processors for impressive editing performance without phone data usage, KineMaster also makes it easy to export a movie at the desired resolution. That edited movie can then be instantly shared to any social network.
"KineMaster is the flagship app demonstrating NexStreaming's highly accumulated know-how in video editing technology. We developed KineMaster for Android phone users to experience a premium video editor on par with if not better than iMovie on iPhone," said Il-taek Lim, CEO at NexStreaming Corp. "We're the easiest video editor app on Google Play and have fluid features that offer enhanced functionality for ad-hoc or professional movie creation, consumption, and sharing."
Available today to a broader audience on Samsung Galaxy S3, S4, Note 2 and Note 3, LG Optimus G, Optimus G Pro and G2, and Sharp SH-01F (all running Android v4.1 Jelly Bean or higher), KineMaster is downloadable for free or for purchase from Google Play. KineMaster will also later be packaged into an SDK so that handset manufacturers can license it from NexStreaming.
Visit http://www.kinemaster.com, http://www.youtube.com/KineMasterapp or http://www.facebook.com/KineMaster for further information on KineMaster.
About NexStreaming
NexStreaming (KOSDAQ: 139670) is a global multimedia software company with headquarters in Seoul (Korea) and branches in the US, China, Spain, Japan, and Taiwan. Not only have NexStreaming's sales been rising steadily but the proportion of sales to major global media customers and smartphone manufacturers has also been growing. NexStreaming is a publicly traded company listed on the Korean stock market, KOSDAQ. For more information, visit: http://www.nexstreaming.com.