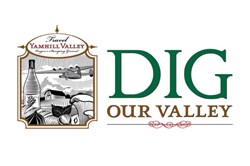 The DIG Our Campaign combines once-in-a-lifetime, 'behind the scenes' experiences in Yamhill Valley with discounts on lodging, food and activities.
Yamhill Valley, Oregon (PRWEB) December 30, 2013
Travel Yamhill Valley announces the launch of the "DIG Our Valley" Campaign in January 2014. The DIG Campaign features once-in-a-lifetime experiences hosted by wineries, restaurants, and other local businesses, in addition to discounts on accommodation, dining and activities to round out a visit to Yamhill Valley. A detailed listing of events and promotions can be found at http://www.DigOurValley.com starting in January 2014. The Campaign will run from January through the end of April 2014.
Yamhill Valley is home to a wide variety of attractions, including world-renowned vineyards, fine dining, unique historic districts, hot air ballooning and other recreational opportunities. Located in the heart of Oregon's Wine Country, the Yamhill Valley is easily accessible and filled with opportunity for families, couples and individual travelers.
"Many visitors are interested in incorporating authentic, local experiences into their travels and we're seeing them trade traditional vacation plans for more meaningful and interactive experiences," noted Mary Czarnecki, Chair of the Travel Yamhill Valley Board and Co-Owner of the Joel Palmer House restaurant. "The DIG Our Campaign combines once-in-a-lifetime, 'behind the scenes' experiences in Yamhill Valley with discounts on lodging, food and activities that complete their trip."
Giving guests everything they need for a memorable experience, the DIG Campaign will feature a different theme each month:
JANUARY: Epicurean Excursion
Take advantage of the valley's agricultural riches with unique dining options that pair local ingredients with world class wines.
FEBRUARY: Oenophile's Outing
If rubbing elbows with the winemaker and relaxing in a cozy tasting room sounds like heaven to you, then plan your escape to Yamhill Valley Wine Country in February.
MARCH: Family Foray
Spring Break! Round up the kids and prepare for fun: waterslides, space museums, biking trails, and unique historical districts wait for you in Yamhill Valley.
APRIL: Agricultural Adventure
Spring is breaking through the damp, Oregon ground to reveal all her glory in a million shades of green! What a perfect time to dig in and find a new path to adventure.
About Travel Yamhill Valley
Travel Yamhill Valley is a membership organization made up of wineries, restaurants, hotels and resorts, local attractions and businesses committed to bringing visitors to Yamhill Valley. Travel Yamhill Valley members include business from the communities of McMinnville, Amity, Carlton, Dayton, Dundee, Grand Ronde, Lafayette, Newberg, Sheridan, Yamhill and Willamina. More information can be found on our website at http://www.TravelYamhillValley.org.
About Yamhill Valley
Comprised of a collection of small towns, Yamhill Valley is brimming with opportunities to experience the good life. Yamhill Valley is authentic Oregon: a place where the good life is cultivated every day, where world-class wineries dot the verdant rolling hills and roadside farm stands intersect with bicycle paths… where historic main streets meet urban-style bistros… where imagination still takes flight and you're never too old to stay and play.