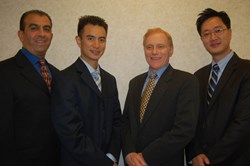 I have drastically improved. I no longer have jaw pain and my headaches have improved. I felt like a different person. I would highly recommend this treatment.- Amelia
New York, NY (PRWEB) January 01, 2014
As people grow older, their teeth and bite change, potentially causing many of the headache and jaw pain symptoms, which can now be treated by Herald Square Dental's TruDenta certified practice.
Dr. Yam, Dr. Shirzadnia, and their staff have undergone special training to become TruDenta-certified treatment providers and have been helping patients restore their normal lifestyle by eliminating their migraine pain with new treatments.
Improper or unbalanced forces within the head, neck and jaw can be caused by a number of factors including old dental restorations, poor work posture, head trauma, vehicle accidents and sporting activities. Current symptoms may have been created years ago by an event long since forgotten or dismissed as minor. Through proven, state-of-the-art technologies in the fields of advanced dentistry and medicine, one can finally get headache, migraine, jaw pain relief and embrace their normal lifestyle again.
Depending on the symptoms, patients often realize immediate relief. Have a talk with the dentist and dental hygienist at Herald Square Dental today about how they can help. A simple painless screening test can determine if TruDenta, a pain-free, needle-free and drug-free approach is the right one for you.
For more information, please visit Herald Square Dental's website at http://www.tmjtreatmentnyc.com/trudenta-pain-relief.php, or call 212-689-0024.
About the company:
Herald Square Dental and The Denture Center is a full-service dental office offering everything from porcelain veneers and orthodontic care, including Invisalign, to implants that replace missing teeth entirely. They are also well known for quality dentures custom fabricated right on the premises. Conveniently located in Herald Square in the heart of New York City, Herald Square Dental and The Denture Center has been known as New York's place for quality cosmetic dental care and same-day dentures since 1977. They are equipped with all the technology and comfort to optimally restore beautiful smiles successfully, affordably, quickly and conveniently. Dr. Pasch, Dr. Yam, Dr. Shirzadnia, Dr. Song and their friendly staff are highly trained in fixing chipped, cracked or stained teeth with lovely new veneers. At Herald Square Dental and The Denture Center, they offer a wide range of affordable dental makeover options, including natural-looking porcelain crowns, tooth bonding and tooth-colored composite fillings.