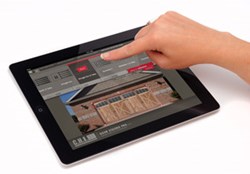 Arthur, IL (PRWEB) December 29, 2013
C.H.I. Overhead Doors is eager to announce the release of the DoorVisionsPro iPad app. This cutting-edge door visualization program allows dealers the opportunity to show homeowners exactly what a new garage door from C.H.I. Overhead Doors will look like on their home right from the driveway.
By simply taking a digital picture with an iPad, distributors will then be able to select from a variety of door models, color selections, diverse window trims and decorative door hardware, allowing for combinations of endless possibilities (see all of CHI Overhead Doors garage doors at http://www.chiohd.com). Switching between door configurations and window options requires just a tap of a few buttons, allowing the homeowner to easily see all of the options available to them. The dealer can also print, email, or share a high-resolution photo and sell sheet for the homeowner.
By giving the customer an opportunity to preview a new door, distributors have a chance to show several door styles and options that may better complement the exterior design and architecture of the home. This is what makes DoorVisionsPro program such a valuable tool in assisting dealers by providing endless selling opportunities.