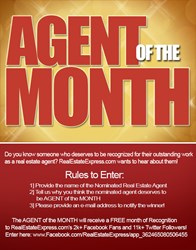 The Agent of the Month will receive a month of Recognition to RealEstateExpress.com's 2k+ Facebook Fans and 11k+ Twitter Followers!
(PRWEB) December 30, 2013
Meet RealEstateExpress.com's Agent of the Month: Aaron Armstrong from The Armstrong Real Estate Group - Keller Williams. Aaron Armstrong, President/CEO of The Armstrong Real Estate Group, prides himself on running Nashville's most innovative, service-oriented real estate team. Whether serving a client, volunteering in the community or coaching someone to live a fulfilled life, Aaron is passionate about service, contribution and connection. Aaron lives in Nashville, TN with his wife Jenny, his son Owen and their two dogs Otis and Fergus.
Do you know someone who deserves to be recognized for their outstanding workas a real estate agent? RealEstateExpress.com wants to hear about them!
Rules to Enter:
1] Provide the name of the Nominated Real Estate Agent
2] Tell RealEstateExpress.com the nominated agent deserves to be Agent of the Month
3] Please provide an e-mail address to notify the winner!
The Agent of the Month will receive a month of recognition to RealEstateExpress.com's 2k+ Facebook fans and 11k+ Twitter followers!
Enter here: http://www.Facebook.com/RealEstateExpress/app_362465080506455
About American School of Real Estate Express, LLC:
The American School of Real Estate Express is one of the nation's oldest 100% online real estate license schools, established in 1996. Thanks to visionary decisions in a few early adopting states like Missouri and Georgia, a few jurisdictions began to write legislation to allow students to take their real estate license training courses online. Today, RealEstateExpress.com is approved to deliver 100% internet-based training and/or exam prep in almost all major states. Our courses have expanded to include; real estate pre licensing, post licensing, broker, and continuing education, as well as Exam Prep systems, versions in Spanish, and appraisal courses.
"America's favorite online real estate school" has now successfully trained over 500,000 real estate students from all over the county via the internet. Real Estate Express is consistently ranked number one in first-time pass rates by boards and commissions, what that means to our students is better, accurate course content, delivered in the method the student prefers, for less money. Students who graduate from the American School of Real Estate Express can take advantage of specialist designations that are widely recognized as invaluable marketing tools fully embraced and preferred by consumers.