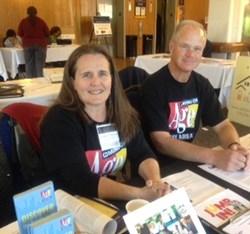 We're thrilled to help these six non-profits launch their projects with our $2,500 Make A BIG Difference grants!
San Francisco, CA (PRWEB) January 01, 2014
Coming of Age:Bay Area has announced the presentation of six $2,500 "Make a BIG Difference" grants to fund team-oriented projects, designed to channel the knowledge and energy of people ages 50 years and older toward making a constructive impact in San Francisco and Alameda counties.
"These grants give local non-profits the means to achieve their initiatives while fulfilling two key Coming of Age:Bay Area goals: engaging the talents of volunteers 50 and older; and fostering the teamwork structure our members have overwhelmingly told us they prefer," said Noreen McKeon, Program Manager. "We're excited to fund projects that will create positive change and make a real difference in people's lives."
The 2013 MABD Grant Award winners are Elders Village, Family Connections, Community Living Campaign, Transition Albany, BACS Adult Day Care and Fremont Family Resource Center.
Elders Village is dedicated to helping Alameda County seniors build communities (both physical and social) to help maintain independence, foster quality of life and moderate the fiscal impact of aging. MABD volunteers will be trained in successful and collaborative aging principles and help in the creation of two intentional aging communities.
Family Connections provides opportunities for people of different backgrounds to build thriving communities in the Portola and Excelsior neighborhoods of San Francisco. MABD volunteers will create "The Cultural Kitchen," circulating lessons and recipes that pass down cultural traditions, healthy eating habits and promote project-based learning.
Community Living Campaign taps the power of relationships to ensure every person's right to community living through self-help, mutual assistance and systems change initiatives. MABD volunteers will increase access to discounted goods and services for seniors and people with disabilities who are seeking to make ends meet by expanding and promoting San Francisco's Gold Card program.
Transition Albany is composed of East Bay locavores who are acting locally to reduce their global footprint. MABD "Edible Landscape Project" volunteers will be trained in, and later teach, the principles of permaculture resulting in the creation of a local food forest and a more vital, engaged, resilient and interdependent community.
BACS Adult Day Care provides a stimulating daily activity program geared toward seniors ages 60 and up with mild to mid-stage cognitive decline. Services allow BACS to provide socialization opportunities for frail adults and respite care for family caregivers. To help awaken personal memories and associations lost to Alzheimer's, MABD volunteers will design and test the new "Making Memories With Music" program.
Fremont Family Resource Center is a welcoming place where families and individuals are nurtured, encouraged and provided with quality services to build on their own strengths and help themselves and others. To improve the financial assets of low income families, MABD volunteers will help coordinate the Volunteer Income Tax Assistance (VITA) operations at various sites in Fremont, Union City and Newark.
"We're thrilled to help these six organizations launch their projects," said McKeon. "In addition to the $2,500 grants, Coming of Age:Bay Area will counsel our grantees, collaborating with staff to ensure that MABD volunteer teams enjoy a quality work experience. We want our nonprofit grantees to be successful, so we share best practices, team-building strategies and promote their projects on our web site."
Recruitment for the MABD teams will start immediately. For background on the MABD program please go to ComingOfAge.org/BayArea/organizations/mabd-teams.
About the company:
Coming of Age:Bay Area celebrates the ability of all people age 50+ to continue to grow, transform their communities, and become a force for public good. The organization offers volunteer opportunities, workshops, educational events and one-on-one coaching. It is sponsored by Northern California Presbyterian Homes and Services (NCPHS) with additional funding provided by the Corporation for National & Community Service/RSVP grant, other community grants and in partnership with KQED. For more information, please visit ComingofAge.org/BayArea or Facebook.com/ComingofAgeBayArea.