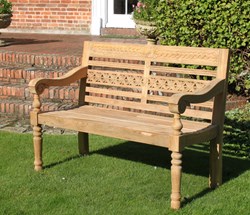 We listen to our customers and have sourced an Imperial bench using Grade A heartwood teak.
Basingstoke, Hampshire (PRWEB UK) 30 December 2013
Chic Teak, a leading supplier of outdoor garden furniture, has just launched a new style of Imperial garden bench.
Chic Teak have supplied an ornate Imperial style bench adorned with traditional Indonesian carvings for many years. It was particularly distinctive as unlike other teak benches it was made from reclaimed timber making every single bench unique.
Now it is available with grade A heartwood teak for the more discerning customer who likes their benches to be less rustic. The carvings themselves are still crafted by hand following traditional Indonesian patterns; this means each bench may differ in carved elements but the bench is intrinsically the same high quality.
A bench made from reclaimed timber has a charm of its own but due to their very nature can vary in quality. These new Imperial benches made from heartwood remove the quality uncertainty by becoming of the same high standard of the other benches.
Ironically once these charming benches have weathered outside the teak turns a rich and warm grey making them almost indistinguishable from their reclaimed teak counterparts. But under closer scrutiny a trained eye can spot the difference and the quality of the heartwood teak becomes apparent.
The new Imperial bench will be available in 3 popular sizes; 2 seater 130cm, 3 seater 150cm and 4 seater 180cm. A matching Imperial chair is also available as a substantial carver with two solid arms making it a perfect lounge chair. Used alongside the Imperial bench and a coffee table they make a charming lounge set perfect for any sized garden.
Both the Imperial bench and chair are available to view at the Chic Teak offices and are available from stock.
Chic Teak Managing Partner Robert Bowden commented: "We like to listen to our customers and are please we have been able to source a Imperial bench using Grade A heartwood teak."
For more information on Chic Teak, the new Imperial bench and chair or their other teak garden furniture, visit their website at http://www.chic-teak.co.uk or telephone 0845 390 5000.