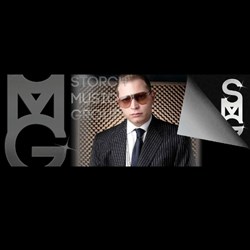 I have fallen back in love with music, which has allowed me to get back to my roots and create sounds without borders.
Miami, FL (PRWEB) December 27, 2013
A packed LIV Nightclub on December 19, 2013 had Miami party goers celebrating the 40th birthday of their favorite producer, Scott Storch. Accompanied by DJ Robert Patroni, the crowd received their own special surprise that evening, the opening show of ElektroGazem, an EDM drenched tour, dropping in 2014.
Scott Storch's hiatus from mainstream music has come to an end, and his fans couldn't be happier. Scott's focus over the past couple years has been dedicated to creating music, and reconnecting with the industry he once reigned over. Storchie fans can look forward to his latest work, ElektroGazem, all tracks heavily saturated with EDM, and carry Storch's recognizable sound. "I have fallen back in love with music, which has allowed me to get back to my roots and create sounds without borders," says Storch on his latest news. Storch is still producing and records out with Meek Mill, Vado feat Rick Ross, French Montana, and more. ElektroGazem is set to go on tour in early 2014, US and European dates to be announced beginning of 2014.
Keep up with Scott Storch by following him on Instagram (@ScottStorchOfficial) and on Facebook @StorchMusic.
Welcome to the new Storch Music Group.
About Scott Storch
Before Storch Music Group, the popular producer began his career in the 1990's as an 18-year-old keyboardist for the Roots. The young Storch quickly rose to the top, as one of hip-hop's best keyboardists. After being discovered, and managed by Derek "LA" Jackson, Storch's career skyrocketed. Connecting with Dr. Dre in 1999 to lay down the keyboard riff that anchored Dre's comeback single "Still D.R.E." featuring Snoop Dogg, put Storch's career on a fast track. He co-produced the single "X" by Xzibit and 3 Snoop Dogg tracks to cement his reputation as a talented young producer. Dr. Dre has said, "Scott is the only producer to co-write with me that went on, without me, to become great." Storch believes there are four elements necessary to create a hit; realness, simplicity, catchy hook and bounce. Scott Storch has produced and co-written hundreds of hits over the span of his career, and the number continues to grow. You can keep up with Scott Storch at http://www.StorchMusic.com.
About Storch Music Group
Storch Music Group is a Florida based artist management and production company. Teamed up with Scott Storch in early 2012 in Hollywood, California to re-work the super producers career, and get the artist back on track, and in the studio. Storch Music Group is located in Hollywood, Florida, with a state of the art recording studio, and full staff, dedicated to the success of Scott Storch and friends. http://www.StorchMusic.com for more info.