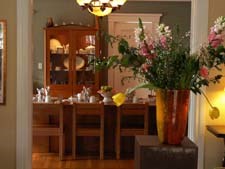 Napa, CA (PRWEB) January 01, 2014
Innkeepers generally want to help with dietary issues around breakfast. It is helpful when guests state their needs prior to arrival (gluten-free, vegan, vegetarian, diabetic). These are all issues, if given enough time, which allow for an innkeeper to plan a breakfast around dietary allergies or needs. Many inns ask for the information, but even if they don't, guests should always inquire if adjustments can be made, knowing full well that no adjustments may be offered.
The Inn On First has recently implemented a policy of asking about dietary needs. They want to know if someone is gluten-free, vegan, vegetarian, on a low-carb or paleo diet, or simply cutting back on sugar. They will take that information and ensure that each guest will have options available for breakfast.
"Sometimes it means we have to create a separate breakfast, or possibly a separate pastry," said Chef Jim Gunther, co-owner of The Inn On First. "I've been sent lists up to 50 items long on what must be avoided due to illness or allergies. Breakfast may have to be simplified from what other guests are eating, but sometimes a bowl of oatmeal is exactly what the guest wants."
All 121 recipes at the inn are catalogued for gluten-free, nut-free, lactose-free, dairy-free, vegetarian and vegan.
Secondly, part of this policy is to ask about egg preparation. The inn prepares eggs as a side dish to many breakfasts: poached, scrambled, or fried. Should someone not like poached eggs, or if they only eat scrambled eggs, that is important information for the chef as part of his service to the guest. Or if a guest doesn't eat prepared eggs, but will eat them in other products, then sometimes other options are considered as substitutions such as an additional breakfast meat, tofu or tempeh.
This policy is in line with the mission of The Inn On First: to provide the best guest experience as possible down to the last detail.
About the company:
The Inn on First provides romantic getaways in the Napa Valley that will surpass all expectations. They can offer landscapes of rolling hills and beautiful vineyards of the entire Napa Valley. With a location that is one of the most sought after destinations in the country, the Inn and rooms are the perfect complement to a Napa Valley experience and make for a romantic atmosphere for loved ones. For more information, please visit their website at http://www.theinnonfirst.com.