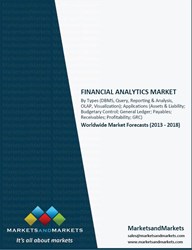 Rockville, MD (PRWEB) December 31, 2013
Financial Analytics Market [by Types (DBMS, Query, Reporting & Analysis, OLAP, Visualization), Applications Assets & Liability, Budgetary Control, General Ledger, Payables, Receivables, Profitability, GRC] - Worldwide Market Forecasts (2013 - 2018)
The emergence of innovative business models such as business-to-business, business-to- consumer, and business-to-employee created new opportunities for financial analytics. In addition to this, technological advancements and its impact on business process as well as financial department automates all financial transactions. This entire dynamic environment needs new ways of financial data analysis across all types of industry verticals. Financial analytics helps them to implement Business Intelligence (BI) and analytical tools to derive precise insights from financial data needed to take business decisions.
Major players such as SAP, IBM, Oracle, TIBCO, and MicroStrategy are active vendors in the market. These vendors provide financial analytics either in the form of individual solutions or integrated into BI suites. The report provides global market trends, overall adoption scenario, competitive landscape and key drivers in this market. The report aims at estimating the current market size and the future growth potential of this market across verticals and regions based on various types of applications.
To order this report:
Financial Analytics Market [by Types (DBMS, Query, Reporting & Analysis, OLAP, Visualization), Applications Assets & Liability, Budgetary Control, General Ledger, Payables, Receivables, Profitability, GRC] - Worldwide Market Forecasts (2013 - 2018)
Contact: Shauna
800.298.5699
Customerservice(at)marketresearch(dot)com
MarketsandMarkets
The MarketsandMarkets edge: Worldwide, market research reports are primarily sold for numbers, market segmentation and competitive landscape, within the business leaders.
About MarketResearch.com
MarketResearch.com is the leading provider of global market intelligence products and services. With research reports from more than 720 top consulting and advisory firms, MarketResearch.com offers instant online access to the world's most extensive database of expert insights on global industries, companies, products, and trends. Moreover, MarketResearch.com's Research Specialists have in-depth knowledge of the publishers and the various types of reports in their respective industries and are ready to provide research assistance.
Follow us on Facebook http://www.facebook.com/marketresearchdotcom
Follow us on Twitter http://www.twitter.com/marketresearch_
Financial Analytics Market [by Types (DBMS, Query, Reporting & Analysis, OLAP, Visualization), Applications Assets & Liability, Budgetary Control, General Ledger, Payables, Receivables, Profitability, GRC] - Worldwide Market Forecasts (2013 - 2018) - Table of Contents:
1 Introduction
2 Executive Summary
3 Market Overview
4 Financial Analytics: Market Size And Forecast By Type
5 Financial Analytics: Market Size And Forecast By Application
6 Financial Analytics: Market Size And Forecast By Deployment Type
7 Financial Analytics: Market Size And Forecast By Organization Size
8 Financial Analytics: Market Size And Forecast By Verticals
9 Financial Analytics: Market Size And Forecast By Region
10 Financial Analytics: Market Landscape
10.1 Competitive Landscape
10.1.1 Ecosystem And Roles
10.2 End User Landscape
10.2.1 Market Opportunity Analysis
10.2.2 End User Analysis
10.2.2.1 Enterprises Implement Bi And Business Analytics For Reporting, Cost And Risk Management
10.2.2.2 Demand For Business Analytics Across Verticals
10.2.2.3 Enterprises Adoption For Cloud Analytics
10.2.2.4 Financial Risk And Fraud Detection Using Financial Analytics
11 Company Profiles (Mnm View, Overview, Products & Services, Financials, Swot Analysis And Strategy & Analyst Insights)*