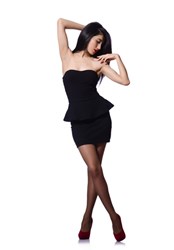 Glam Trends in Style
(PRWEB) December 28, 2013
GL Fashion has stocked its virtual shelves with a wide array of new winter 2014 styles, providing fashion-forward women with a great opportunity to start the new year in style.
"We'd like to wish our customers a happy holiday season and a delightful New Year, along with peace and enjoyment to people across the globe. 2013 has been a wonderfully productive year and we look forward to making 2014 even better!" explained Tatyana Arie, owner of GL Fashion.
GL Fashion will kick off the new year with a new and recently improved website design at glfashion.com.
"We've overhauled our website to create a user-friendly platform that shoppers are sure to love. It has never been easier to shop for your favorite fashions. In fact, we've also expanded our selection of apparel, so you won't just enjoy a more shopper-friendly web interface; you'll also have many more styles to choose from!" Arie added.
GL Fashion is perhaps best known for their vast selection of high-fashion styles, perfect for every situation, whether it's a chic pair of jeans, paired with a stylish blouse and blazer for day out shopping with friends or a high glam strapless cocktail dress that's perfect for a formal occasion.
GL Fashion caters to women worldwide with all the most current styles, fresh off the fashion runways in New York, Milan, London and Paris.
"We aim to go beyond providing this season's hottest styles. We go the extra mile to provide a wide array of dresses, blouses and other women's apparel, so there's something to complement every body shape. There are short dresses for women who endeavor to achieve the appearance of longer legs, to A-line dresses for women with large hips and so much more," Arie explained.
GL Fashion's selection of dresses, tops, bottoms and accessories are routinely updated too, providing fashionistas with all their favorite fashions, fresh off the runways.
Learn more about GL Fashion and browse the latest fashions by visiting http://www.GLFashion.com.