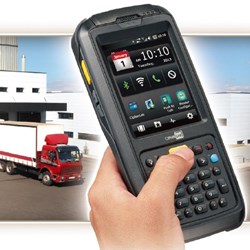 $56.72 is the average monthly end user cost over 36 months for a CipherLab CP60 with 2D Scanner, 3 Year Premium Comprehensive service,10MB of data per month, Omega Management Suite (OMS), SIM installation & set-up, activation fees and shipping.
Plano, TX (PRWEB) December 30, 2013
CipherLab today announced a new CP60 Rugged Enterprise Device Bundle with Raco Wireless. This bundle includes Cipherlab CP60 rugged mobile computer, wireless connectivity and 3 year service agreement.
There are millions of smart phones and consumer grade devices bundled with retail voice and data plans are implemented in the enterprise space every year. These devices are easily broken or destroyed if they get wet or dropped and typically cannot be purchased with a three year comprehensive service plan. Unit replacements, incidental costs and loss of productivity can spiral out of control. Even when functioning correctly, the use of cameras to read barcodes is clumsy and limits their use. A significant portion of these applications use less than 20MB of wireless data per month with little or no voice, so most offerings are an overkill and a waste of money. Users also have no way of monitoring and controlling the amount of data from each client. The CipherLab CP60 rugged mobile computer bundle solves all of these problems and is less expensive than smart phones and consumer devices.
The CP60 is packed with flexible wireless communication options in 4G HSPA+, 802.11 a/b/g/n (Cisco® CCXv4 certified), and Bluetooth® V2.1 with EDR. Its embedded GPS/AGPS allows total navigational control. Moreover, CP60 is armed with a 1GHz processor and multiple operating system options in Windows® Embedded Handheld 6.5.3. It comes fully equipped with a large 4 GB flash memory and 512 MB SDRAM, which allows for extended storage of data and software. On top of all that, it provides versatile and accurate data capture with laser reader, long range laser reader, 2D imager and 5 megapixel autofocus camera. Aside from all of its advantages, the rugged design of CP60 with IP65/IP67 is proven to withstand harsh environments. It passes 2.4m drops onto concrete and 2,000 tumbles at 1m ensuring durability. The CP60 is built with both power and toughness.
CipherLab CP60 wireless bundle is now available through BlueStar. (Product Code: RWCP60) For more details and specifications regarding CipherLab Mobile Computers and Barcode Scanners or request for demo, please send an email to NASales(at)cipherlab(dot)com or contact our office at 888-300-9779 by phone.
About CipherLab
CipherLab is a global leader in the design, manufacture, and marketing of Automatic Identification and Data Capture/Collection products and systems. The company's mobile computers and scanners are integrated into the networks of some of the world's best known logistics, retail, distribution, government installations and healthcare companies, helping them run more efficiently and effectively onsite and on the road. CipherLab USA is headquartered in Plano, TX. For more information, please visit http://www.cipherlab.com or like us at http://www.facebook.com/CipherlabUsa.