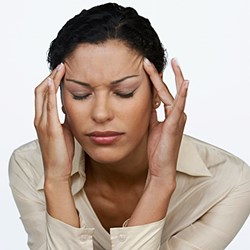 Before proceeding with the treatment patient has to be diagnosed properly.
Boston, MA (PRWEB) December 28, 2013
Visage Sculpture, cosmetic clinic dedicated to non-surgical face shaping, has always had a list of medical services. Among them was the treatment of HIV related face wasting, TMJ, excessive sweating, and consequences of facial nerve paralysis. In addition to all those valuable services treating migraines is now added to the list.
Botox and Dysport are used for relaxing dynamic lines of the forehead and brows. Often patients have reported positive "side effect" after a treatment-improvement, and often resolution, of migraines. Masha Banar, Board Certified Physician Associate and director of Visage Sculpture, then decided to offer this treatment for patients who suffer from this very common problem.
"Before proceeding with the treatment patient has to be diagnosed properly" Banar says. "Migraines have many etiologies: I have seen a patient recently with 2 different types of headaches, one type I was able to help with Botox as it was related to muscle strain; and the second type of headache was misdiagnosed for years-she was prescribed a strong anti-depressant medication by her Physician for something that turned out to be a chronic sinus infection resulting in sinus headache."
Besides the muscles of the forehead and brows, Banar often treats muscles of the temples and head that cause headache when in spasm of strain. Results last about four months and can last longer when procedure is repeated.
Complimentary consultation can be scheduled by calling at (617)795-0201 or via e-mail. Office is located at 31 Channing Street, Newton Corner, MA 02458.
About Visage Sculpture
Visage Sculpture is premier Cosmetic Center dedicated to helping people look and feel more attractive, refreshed, and youthful in the most natural gentle way. Founded by Masha Banar, Board Certified Physician Associate, with more than a decade of experience in Plastic and Reconstructive Surgery, it has been featured on ABC News for its unique alternatives to surgical procedures (non-surgical rhinoplasty and TMJ treatment).
About Masha Banar, PA-C
Masha is a National Educator for Sculptra Aesthetic and teaches facial anatomy and injection techniques to Physicians and Nurses. She has treated thousands of patients and has one of the busiest practice on the East Coast. Masha worked with Sculptra long before it was FDA approved for cosmetic indication, and treated hundreds of cases of HIV lipoatrophy with the product.
Masha's innovation, non-surgical rhinoplasty (or nose job), has been featured on the local news channel and remains the most popular procedure offered in the clinic. Her extensive experience combined with artistic background and intuitive appreciation of proportions of the face brings ease to all procedures offered.