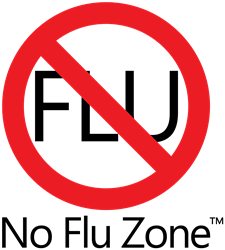 I went after some of the smartest people I know" to create the No Flu Zone program relates Mike Popovich, STC CEO.
Tucson, Arizona (PRWEB) December 30, 2013
In past years, as many as 1 in 5 people got the flu. Look around the office and figure out the odds. It doesn't have to happen.
Scientific Technologies Corporation (STC) is known for its innovative work in health information systems. Early in 2013, company CEO Mike Popovich, decided to apply the company's creativity to a longstanding health issue: How to get more people to get flu shots? (Even when flu shots are offered at a company's location, at no cost to the employee, only 35-40% of employees, on average, stop to get vaccinated.)
Popovich assembled a team of volunteers to help generate ideas. He says, "I went after some of the smartest people I know." The resulting group came from government, industry, the non-profit sector, and academia and included a teenaged winner of an Intel Science Fair prize. He recruited innovation consultant Dale Dauten to lead the idea generation process aimed at developing techniques to increase the number of people who get flu shots. The team developed hundreds of ideas that were then winnowed down to seven experiments, including one with the goal of a dramatic increase in employee participation.
Whereas most employee flu shot programs are built around "Don't get sick," the STC experiments made a radical switch in emphasis, going from "Don't GET the flu" to "Don't GIVE the flu" and asking employees to help protect the team by creating a No Flu Zone™.
You Didn't Get It From Me™
Using the motto "You Didn't Get It From Me™," the program included an informational program with posters, emails, fliers, and stickers (akin to "I Voted" stickers) and offered ideas for making flu shots a teambuilding event. In the first test of the program, at STC, 86% of employees joined in and got vaccinated. A second test company achieved 72%. (Compare to the typical expected level of 35-40%.)
Given this dramatic success, nearly doubling the rate of flu vaccinations, Mike Popovich and STC have now decided to make the No Flu Zone™ program available to other organizations, at no cost.
###
If you would like more information or to schedule an interview with Mike Popovich, call 480-745-8500 or email Michael_popovich(at)stchome(dot)com