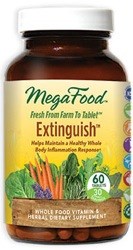 Maintaining a healthy whole body inflammation response is an important element to help support optimal health and well-being.
(PRWEB) December 29, 2013
MegaFood Company recently launched its first whole food supplement for inflammation. The product is named Extinguish because key ingredients have been tested to support a healthy inflammatory response.
Inflammation is a multifaceted, natural metabolic process of the body. It is an essential immune response that helps the body react to, and recover from, changes in cells and tissues. Maintaining a healthy whole body inflammation response is an important element to help support optimal health and well-being.
The key ingredient in MegaFood's Extinguish is turmeric (95 percent curcumin). Turmeric has been used safely and effectively for its body protective properties. According to the MegaFood company, "Curcumin, the most bioactive compound in turmeric root has been shown in clinical research to help maintain a healthy whole body inflammation response."
Black pepper extract is also included to increase turmeric's bioavailability. According to MegaFood, "To enhance the absorption and effectiveness of curcumin and other herbs in Extinguish, Bioperine, a patented extract of black pepper was included."
Holy basil extract is also in this supplement for its stress-relieving benefit. "Emerging research has identified prolonged stress to be a contributing factor to an inflammatory response in the body. Holy Basil leaf is an ancient Indian herb well-known to help promote a healthy stress response," says MegaFood.
Robert Craven, CEO of Megafood stated, "We are committed to buying whole foods that have been cultivated and harvested from family farmers. For example, the organic whole oranges used in the Extinguish formula are sourced from Uncle Matt's Organic, a leading organic orange farmer and orange juice producer from Florida."
Andrew Weil, M.D. recently added his voice to the many recommendations for Megafood Vitamins when he said in a recent video, "MegaFood's slow food process is a method of preparing and drying fruits and vegetables in a way that does minimal harm to their constituents. That is very much in accordance with my personal philosophy of health and nutrition." Dr Weil recognizes how different MegaFood is as a whole-food supplement manufacturer and therefore has chosen to partner with MegaFood to help bring unique wholesome nutrition and credible education to the natural retail community. MegaFood's whole food supplements are crafted from farm-fresh, local foods using a unique Slo-Food Process that delivers the wholesome nourishment from the food, and not just vitamins alone.
MegaFood Vitamins is an online retailer that specializes in the MegaFood brand. Gail Bowman, owner of MegaFood-Vitamins.com, has spent the last ten years helping customers to find whole food nutritional supplements to meet their supplementation needs.