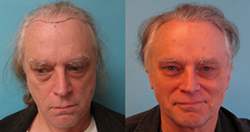 This study will provide objective measures between the FUE transplant and strip method, also supporting the efficiency of the methods that are being used at this point -Parsa Mohebi, MD
Los Angeles, CA (PRWEB) December 30, 2013
The FUE Research Committee of the International Society of Hair Restoration was established to research the differences between the two common methods of hair restoration, FUE and strip method. One of the goals of the FUE Research Committee is to optimize the quality of FUE hair transplantation. The newest multi-center study being conducted by the FUE Research Committee is the FUE vs strip hair transplant study. This one of a kind study will compare results observed from both methods of hair restoration, (follicular unit extraction and strip method) providing evidence as to which method is more successful when comparing hair survival, quality, thickness, and overall hair characteristics.
Dr. Parsa Mohebi, chairman of the FUE Research committee states that the goal of this study is to answer many basic questions, "Whether or not doing FUE affects the quality of hair transplants? How the quality of hair compares with traditional methods of strip hair transplant and what are the long term differences between the two methods? Once these questions have been answered we can further study the advanced methods to improve the quality of FUE Transplants."
The studies which are expected to last within 14-18 months will be done in 5 different centers that are located in different regions and countries: California, Colorado, New York, Brazil, and India. Each center will enroll several patients for this study. The expected time for the studies is generally longer than many other medical research projects due to the long period of time that is expected to see full grown hair after a hair transplant.
It is mandatory for patients who choose to participate in the study to be seen by the designated hair transplant surgeon for six and twelve month follow-up appointments to assess and evaluate the results. Dr. Parsa Mohebi believes, "This study will provide objective measures between the FUE transplant and strip method, also supporting the efficiency of the methods that are being used at this point. We are hoping this will also lead to future studies that will provide more evidence based data on more advanced techniques of hair transplantation."
The field of hair restoration will benefit from studies such as these which yield meaningful results and comparisons. The lack of evidence in the past for this field, created a need for emphasis on more scientific research that can answer many questions on hair restoration techniques. The FUE Research Committee will continue with more studies in the future to advance the field of hair restoration.
About US Hair Restoration:
US Hair Restoration was established in 2008 by Dr. Parsa Mohebi. As chairman of FUE Research committee and creator of the several methods and techniques in modern hair restoration, Dr. Mohebi and his staff provide the most advanced techniques in hair restoration. The overall goal at US Hair Restoration is to restore patient's self-esteem through the use of quality hair restoration.