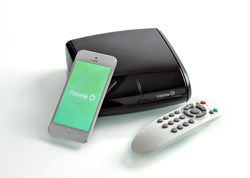 Fitlime intends to capitalize on the growing fitness tracking trend, projected to surpass $1 billion in 2014.
Philaldephia, Pennsylvania (PRWEB) January 28, 2014
Tech company Fitlime Inc. has announced the development of a new solution to help consumers force themselves to reach fitness and time management goals. The Fitlime Aim system gives users the ability to lock themselves out of distracting devices such as televisions, apps, websites and game consoles until a pre-determined fitness or time management goal is met.
The Fitlime software, which can track exercise progress by integrating with third-party smartphone apps and fitness trackers, works with all major mobile devices, while the accompanying locking console connects directly to televisions and other power-using hardware. The console and software work together to block the user from distracting devices, apps, or websites until a user-chosen goal is met. These goals are flexible to set, but intentionally difficult to break once activated. Users may program in allowances for sick days, and enlist friends and self-imposed penalty fees to help with the commitments, which can range from blocking off time for studying, to keeping web sites locked away until an exercise goal has been logged with a fitness tracker.
By utilizing data from the popular devices Fitlime intends to capitalize on the growing fitness tracking trend, projected to surpass $1 billion in 2014. According to a Consumer Electronics Association (CEA) report, 55% of online U.S. consumers used fitness tech in 2012, up from 47% in 2010.
The idea for Aim arose from founder Trevor McGerr's time-management frustrations while pursuing a degree in dentistry. "Laying in bed after another day of skipping the gym, I wished there was a better way to stick to a routine," said Dr. McGerr. "I wanted a way to cut out distractions and force myself to focus on my health in a consistent manner."
According to the American Psychological Association, self-control is a finite resource that needs time to rebuild after periods of stress. Fitlime Aim can be employed by users during this period of willpower depletion to block dangerous temptations and distractions. Beyond its use as a fitness device, the Aim can also be used exclusively as a time-management resource to help the user impose structure on their time use, working alongside and bolstering their natural self-control to stay focused on succeeding in their goals.
To support production of the Aim, Fitlime (http://www.fitlime.com) is launching a Kickstarter campaign with the goal of raising $216,000 to get their prototype into production. Supporters will be rewarded with a first-of-its-kind thank-you gift, a virtual foundation stone with the backer's name, picture, hometown, and a message to the world, placed permanently on the Fitlime homepage. A few stones, commemorating early backers, are already in place.
Media Contacts:
Debbie Baratz
debbie(at)fitlime(dot)com
(267) 332-1288
Amber Rose
amber(at)fitlime(dot)com
(267) 332-9112