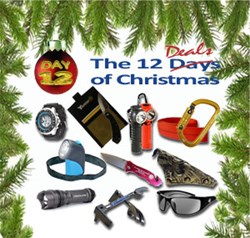 We have really tried to be dynamic with our offerings and expand the gift choices...
Neptune, NJ (PRWEB) December 28, 2013
The 2013 holiday season shopping experience has been unprecedented! From controversy with retails stores such as Wal-Mart opening on Thanksgiving Day to record setting sales, the news and attention this year has exposed us to ever changing and expanding demand for holiday gifts.
Some companies were very creative in their offerings of holiday gifts, and gave customers great deals and deep discounts. One such company is a New Jersey based company – All Hands Fire Equipment.
"Over the years, we really tried to listen to the customer and their families", said All Hands Fire Equipment President Donald Colarusso. "Traditionally, firefighters, law enforcement and EMS personnel are difficult people to buy gifts for. So we have really tried to be dynamic with our offerings and expand the gift choices. And the results has been extremely well received", he said.
A very popular promotion that was launched by All Hands Fire Equipment was their Top 10 Firefighter Gift Ideas, which included Freestyle wrist watches, Flashlights, min-Halligan Bar bottle opener, a Patented Cooler and more.
In addition to the Top 10 Gifts, All Hands Fire Equipment also offered the 12 Deals of Christmas which was announced for twelve consecutive days. Those items included items such as the Streamlight PolyTac Flashlight, the Res-Q-Me pocket tool, Multi-Purpose Rescue Knife, Webbing/Carabiner set and more.
"The feedback of the promotions that we offered this year were overwhelmingly popular", said Mr. Colarusso. As a result of the positive feedback received, All Hands Fire Equipment has announced that they will extend these specials and discounts during the week between Christmas and New Years. In addition, they have also announced that they will offer free shipping on purchases over $50.00.
For more information please visit http://www.allhandsfire.com/Holiday-Gift-Center/Top-10-Firefighter-Gifts