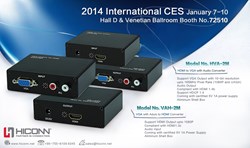 (PRWEB) December 29, 2013
Hiconn Electronics is a trend setter and market leader in high end electronic products. Its devices sell well in the global market. Recently, the major officials of the company held a meeting about its 2014 CES show.
According to Mike, the representative of the meeting, Hiconn Electronics will showcase a large number of its latest items, including VGA with Audio HDMI Converters, HDMI to VGA with Audio Converters, USB 2.0 to DVI Adapters, High-quality HDMI Cables, HDMI to VGA+Audio Adapters and more.
The 2014 CES is owned and produced by the Consumer Electronics Association (CEA). It will run from Tuesday, January 7 to Friday, January 10, 2014 in Las Vegas. Thus, the company staff will fly to the United States around January 2. Now, all its employees are busy preparing for the big show.
"We are happy to attend the 2014 Consumer Electronics Show. It is the international gathering place for thriving technological businesses. We are so excited. It is rumored that more than 600 technology companies from all over the world will debut their latest consumer technology innovations at the show. And the CES conference program will feature over 800 speakers and 300 robust sessions, including keynotes from the leaders of Audi, Intel, Sony, Cisco and Yahoo. Our company is looking forward to the big show," Mike says.
About Hiconn Electronics
Hiconn Electronics (Shenzhen Hiconn Electronics Co. Ltd.) is devoted to designing and manufacturing a wide range of connection cables and customized cable assemblies, offering HDMI cables, VGA cables, SATA cables, USB cables, 1394 cables, DVI cables, SCSI (Small Computer System Interface) and more. For more information, please visit http://www.hiconn.net/.
Contact Person: James Yin (Sales Director)
Company Name: Shenzhen Hiconn Electronics Co., Ltd.
Address: Shenghua Building., Xixiang Road., Baoan District, Shenzhen, Guangdong Province, China
Zip Code: 518102
Tel: +86-755-8109 8345
Fax:+86-755-2779 3497