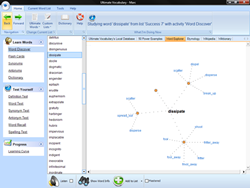 ...there's an easier and less life-changing way to improve vocabulary and other language skills than having to move to another country.
New York City, NY (PRWEB) January 05, 2014
As eReflect points out in this week's news release, language immersion has long been a recommended method for improving overall language competency. In other words, noted the eReflect representative, in order to learn French, it's best to start living in a French-speaking environment, ideally in France or any other French-speaking part of the world, something that would allow the learner to pick up on language nuances that classroom-based language lessons cannot provide. In a recent interview with Rene Kondratzky of Vocabel.com, eReflect suggested that there's an easier and less life-changing way to improve vocabulary and other language skills than having to move to another country.
On the vocabulary improvement site Vokabel.com, Rene Kondratzky offers vocabulary exercises and a series of other activities such as creating personalized vocabulary tests for use on smartphones. The site developed by Kondratsky tests and helps improve vocabulary in Spanish, German, French, and English. The premise Vokabel works on, according to the interview published on eReflect's Ultimate Vocabulary blog, is that long, focused study sessions can help in improving vocabulary in the same way that immersion helps. Activities like flashcards let the user recall the meaning and corresponding word in the studied language by activating the memory centers of the brain with focused stimuli, according to Kondratzky. Words are stored in deep memory so it takes time and a bit of mental effort to recall the correct form and meaning of each word. These focused vocabulary sessions are what allow people to effectively learn and remember new vocabulary.
The eReflect representative noted in the news release that Kondratzky's site offers flexible tools because despite the fact that the site highlights focused, intense practice sessions it also lends itself to short burst of vocabulary practicing. Modern learning tools like this are especially useful for people who use smartphones, because it's easy access vocabulary apps and sites that offer vocabulary training on the go. The eReflect editor and Kondratzky both pointed out that free time, such as when waiting for the bus or for a friend to come for dinner, presents people with a great opportunity for vocabulary improvement.
Vokabel.com is designed for use on a range of devices, from iPhones and Android smartphones to desktop computers and laptops. This multi-device approach ensures that people have instant access to a vocabulary training practice resource that targets gradually but substantially improving vocabulary competency.
For more information on how you can benefit from Ultimate Vocabulary, please visit its official website, http://www.ultimatevocabulary.com.
About Ultimate Vocabulary™
Ultimate Vocabulary provides a proven and powerful platform, built to improve anyone's vocabulary.
The interactive self-improvement system provides more learning tools than any other program on the market, as well as more information on words.
The Ultimate Vocabulary software provides each and every user with a personal computer tutor. Providing a step-by-step guide to learning a powerful vocabulary, Ultimate Vocabulary is the learning tool everyone can benefit from.
Of course, the software is also backed by eReflect's iron-clad money back guarantee.