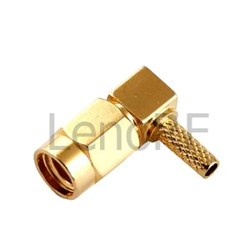 (PRWEB) December 30, 2013
Recently, LenoRF, a famous China manufacturer offering various types of connectors, has released its new collection of SMA connectors. What's more, the company has started promoting these items. All its SMA connectors are now discounted, up to 27% off. The deadline of the special offer is January 20, 2014.
The CEO of the company says that "SMA" means "SubMiniature version A". An SMA connector is a semi-precision coaxial RF connector developed in the 1960s as a minimal connector interface for coaxial cable with a screw type coupling mechanism. It has a 50 Ω impedance and it is specially designed for use from DC to 18 GHz. This kind of connectors can be widely used in the electronic industry.
When it comes to quality services, LenoRF differs from many other suppliers. Its product catalog illustrates its excellence. Because of its high end products and kind customer service, LenoRF has received high satisfaction scores from many customers, including some famous brands.
"We are excited to release our new items. The brand new SMA connectors are specially designed for the high end companies in the industry. Along with the well finished connectors, OEM orders are welcome at our online shop as well," says the CEO of the company.
About LenoRF
LenoRF is a famous global manufacturer of coaxial connectors and cable assemblies. The company has served as a specialist in the industry for several years and insists on providing effective turnkey solutions for radio frequency systems. Its customers include worldwide OEMs, distributors and system integrators from various fields like broadcast, land-mobile, wireless communications, microwave market sectors and so on.
For more information, readers can visit http://www.coaxial-connector.com/product/sma-connectors-male-right-angle-for-rg-178-crimping/.