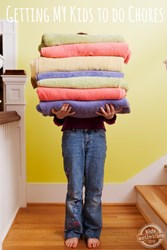 Doing chores now will help kids later in life.
Dallas, Texas (PRWEB) January 05, 2014
Get ready for great tips from seasoned moms. Lots of ways to get kids doing chores and tips to get kids doing laundry have been published on Kids Activities Blog. Kick off the New Year with useful tips to keep the household safe and sane.
Getting the kids to participate in any meaningful challenge can be hard. Getting their input and commitment may be easier over time. Seasoned moms are sharing their current 30-day challenge on Kids Activities Blog in hopes to inspire more moms to do the same.
The challenges range from 30 days sugar free, to 30 days chores, to 30 days one-on-one time. Other moms tackle 30 days meaningful meals or 30 days of veggies and fruits. The list is endless.
One will be surprised that kids actually get excited to be able to operate the washer and dryer with parent supervision of course. Start with a basic tutorial. Just a little how-to-class at the washer and dryer will be sufficient.
Don't go into the ins and outs of sorting. Just keep it simple at first. Teach them how many clothes can fit into the washing machine and how much soap to use. Then show them the setting that applies the most to all the household laundry.
Once the washer is ready, let the kids transfer the clothes. This should be easy. Show them the dryer setting that fits most of the laundry. The daily challenge is complete. Folding clothes can be addressed on day number two.
For detailed instructions and to get additional inspiring tips, check out Kids Activities Blog this week. Come get inspired to kick off the New Year by teaching life lessons to kids.
About Kids Activities Blog
Kids Activities Blog is a website created by two moms (who collectively have 9 children), Rachel Miller and Holly Homer from June Cleaver Nirvana. It is their daily goal to inspire parents and teachers to play with kids. This interactive website publishes simple things to do with kids twice a day. Kids Activities Blog is a great tool for moms and teachers to find kid-friendly activities that create memories and sneak learning into the fun.