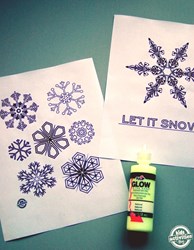 Get creative this winter with fun window clings.
Dallas, TX (PRWEB) January 03, 2014
WInter is here in full blast. Easy to do window clings and cute January coloring pages have been released on Kids Activities Blog. Get ready for a creative afternoon at the dining room table with fun ideas from seasoned Moms.
Adorable snowflake coloring pages provide designs to make cool window clings. These fun pages make it easy for kids to transform their drawings into cool window art. Materials needed are wax paper, glow in the dark fabric paint, and the coloring pages provided on Kids Activities Blog.
Simply print out the coloring pages and cut out a piece of wax paper according to the design on the page. Be careful to trace the snowflake details so the glue lines do not run into each other.
The fabric paint will allow the creation to be bendable. When the paint has completely dried, wipe the snowflake with a moist cloth on one side and stick to the window. Pearly white fabric paint, sparkle paint, or even neon paint, will make great looking window clings. The snowflake window clings will be keepsakes for years to come.
The adorable January coloring pages feature a group of forest friends skating on a frozen pond, cuddling snow people standing in a blizzard, and a pair of bird friends going in a sleigh down the hill.
Let the kids have fun coloring with anything but crayons or markers. Fun ideas include tracing the outline with glitter glue, using tissue or flat marbles to fill in the page or simply turing the fun pages into design airplanes.
For detailed instructions and to get additional fun tips, check out Kids Activities Blog this week. Come get inspired to have a blast with the kids this winter.
About Kids Activities Blog
Kids Activities Blog is a website created by two moms (who collectively have 9 children), Rachel Miller and Holly Homer from June Cleaver Nirvana. It is their daily goal to inspire parents and teachers to play with kids. This interactive website publishes simple things to do with kids twice a day. Kids Activities Blog is a great tool for moms and teachers to find kid-friendly activities that create memories and sneak learning into the fun.