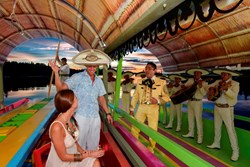 A couple enjoying mariachi
Cancun, Quintana Roo, Mexico (PRWEB) December 30, 2013
Experiencias Xcaret has launched a new attraction in the Cancun-Riviera Maya destination: Xoximilco, Cancun. With an initial investment of 222 million pesos, it pays homage to the culture of central Mexico and offers its visitors the opportunity to enjoy a unique nighttime experience.
Xoximilco is a beautiful set of canals that visitors will cruise at night on board picturesque trajineras, a fun and original way of spending quality time with family and friends. It also offers the possibility of enjoying more than 20 gastronomical delights representative of Mexico, accompanied by Mariachi music and different traditional live music bands creating a true Mexican fiesta.
It is just 5 minutes away from Cancun International Airport and 35 minutes from Playa del Carmen, on kilometer 338 of the Cancun-Chetumal Highway.
Xoximilco is located on a 140-acre piece of land that for many years was used to extract material for construction. Through the excavation of calcareous ground (sascab or sahcab, in the Mayan language) the underlying phreatic surface was reached, leaving a set of exposed waterholes. Their interconnection gave way to the creation of 4.6 miles of canals, which are being used for the recreation of tourist after an intensive reforestation program and the development of service facilities.
The flora rehabilitation program encompasses planting of more than 100,000 native plants including timber yielding trees like cedar and mahogany, and palms such as guano and chit; the majority of which come from the Experiencias Xcaret plant nurseries.
Xoximilco has a capacity to welcome one thousand six hundred visitors daily and remains open from Monday to Saturday during the entire year. It has 40 trajineras; 32 representing each state in Mexico; one more representing the Federal District and the rest will have names in reference to Xochimilco, a region of náhuatl origin declared World Heritage by the UNESCO in 1987.
Xoximilco presents a modern version of the legendary cruise through the canals, with the colors and charm of those magical moments that the good old days call to mind. To visit, you can book through the Internet or with your travel agent. It is also possible to make your way there on your own with a prior reservation. It is an attraction for the whole family with children age 5 and older.
The first trajinera will set off at 6:00 p.m. with an approximate duration of 3 hours approximately.
Xoximilco in numbers:
Beginning of the project: January 2013.
Extension: 140 acres (36 % jungle, 28% of canals and 35% of paths and service areas).
Length of canals: 4.7 miles
Extension sailed in trajineras: 1.6 miles
Visitors expected in the first year: 86 thousand
Number of jobs being created: 520
Direct jobs: 200
Indirect jobs: 800
During 2013 Experiencias Xcaret increased its number of jobs available by 500 thus the organization now has 3 thousand 700 collaborators.