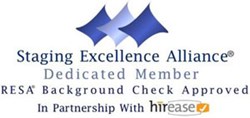 I took the Academy of Home Staging class three years ago and now have a thriving business that I love!
Los Angeles, CA (PRWEB) December 29, 2013
The Academy of Home Staging would like to give sincere thanks to all students in 2013. Students came from all over the United states to all of our six locations – Los Angeles, Seattle, Dallas, New York City, Washington DC and Tampa Bay. Students came to class excited and ready to learn how to build their own business in this growing market.
Several of our students have already completed the building and set-up of their business and are out partnering with realtors in their area to help market houses for sale.
In 2013, The Academy brought forward some new offerings, Staging for Rentals, Staging for Seniors, Feng Shui and visits to the Design Centers in Dallas and New York City.
The overall student manual was also updated in 2013 providing the latest information to our students.
The dates, locations and specialties for each of the Academy's first quarter 2013 classes are:

February 3rd – 7th, Los Angeles, CA
Bonus: Train with HGTV host Wanda Colon.

February 24 - 28, Dallas, TX
The Dallas class comes with a bonus field trip to the Dallas Design Center.
Plan now to begin a new career in 2014, running a Home Staging business. There has never been a better time to join the industry of Home Stagers. The real estate market showed great return in 2013 and it is projected to continue to grow in 2014. In 2007, only 5% of houses on the market were professionally staged, according to NAR (National Association of Realtors) 25% of all homes on the market in 2012 were professionally staged.
Interested students should call 1-800-574-5576 today to register and secure their seat in our limited enrollment classes and realize these fantastic savings. Financing is available.
About The Academy of Home Staging: The Academy of Home Staging was founded by Kim Kapellusch in 2005 in the Los Angeles area, and has quickly become the industry's premier Home Staging and Redesign Certification Training Program. Today, The Academy operates in California; Dallas, TX; New York City, NY; Seattle, WA; Tampa Bay Area, FL; and Washington, DC. In addition to its leading classroom certification classes, The Academy offers a full CD-based course, ongoing education and one-on-one business counseling.
For more information, call 1.800.574.5576 or visit http://www.TheAcademyOfHomeStaging.com.