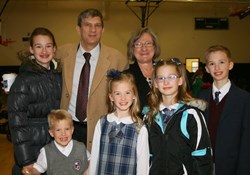 "Everest Academy educates Christian leaders that will make a difference in their families and in their wider communities," said KC Wollenberg from Everest Academy's Admissions Team.
(PRWEB) December 31, 2013
Lemont, IL - Everest Academy students have been busy making a difference building community starting in their own families with the recent celebration of Grandparents Day and continuing out into the community at large through volunteer efforts at "Feed My Staving Children." These two recent events demonstrated the students' efforts to bring support and unity to others as they learn to become Christian leaders.
Grandparents Day kicked off the holiday season. Over 300 guests attended the annual celebration that included a special mass, a visit to the grandchildren's classrooms, a light breakfast and a stage performance from each class. The purpose of the event was to remind grandparents how important they are to the growth and development of the grandchildren and to celebrate their role in the family. The theme of the morning was God Bless America & God Bless our Grandparents. The students harnessed their love and appreciation for their special guests in their presentations of traditional American songs such as "God Bless America" and "You're a Grand Old Flag" as well as short messages of thanks and gratitude. Pope Francis recently has said, "How important grandparents are for family life, for passing on the human and religious heritage which is so essential for each and every society!" The students of Everest Academy stood before their grandparents and made sure they let them know how important they truly are in their faith formation and their young lives!
Also in the holiday season Everest Academy students stepped out and put their faith into action with a trip to "Feed My Starving Children" in Aurora, IL. The third and fourth grade students packed a year's worth of food for hungry children throughout the world. Students were educated on the realities of hunger and starvation and then measured, weighed and wrapped the freeze-dried food. "It was great to spend the day working in teams, not doing something for yourself, but doing something for others," commented Kayla Kulhanek, a member of the fourth grade class. The purpose of hands-on service projects such as "Feed My Starving Children" engage Everest Academy students in opportunities to develop compassion and a heart for serving others. "The students become more aware of the needs of others, and they learn that they can change the world for the good," explained Everest Academy's Dean of Students, Molly Maher.
Everest Academy is an independent Roman Catholic school in Lemont educating children from preschool through eighth grade. The teachers and staff are dedicated to forming the whole child by providing the highest level of academics, by building strong character, and by preparing generous leaders ready to serve the community. If you would like to learn more about Everest Academy's unique approach to education, please contact KC Wollenberg at 630-243-1995 or visit http://www.everestadvantage.org.