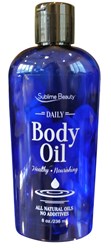 The five oils in this product compliment each other and offer excellent qualities for skin's well-being.
St. Petersburg, FL (PRWEB) January 03, 2014
Skin is assaulted by cold weather and over-heated interiors this time of year. The pure ingredients in the Daily Body Oil are a superior way to hydrate and nourish the skin without feeling greasy.
"We designed the Daily Body Oil after researching qualities of hundreds of oils," says Kathy Heshelow, founder of Sublime Beauty.® "The oils have various complimentary qualities and help the skin look and feels its best. We used no chemicals, additives or fragrances."
Included are sweet almond, aloe, argan, jojoba and sesame oil plus Vitamin A. Sublime Beauty® offers a 6 page report after purchase about the oil benefits, sent by email.
Oils possess a wealth of vitamins and minerals that are helpful for good skin health. Several can help skin produce more collagen. The oils included also have:

Anti-inflammatory properties
Anti-oxidant and anti-aging properties
Moisturizing and hydrating qualities
"We have many clients who dry Skin Brush and love to use pure oils. We are big fans of skin brushing at Sublime Beauty® and have introduced thousands to this healthy practice," says Heshelow.
Sublime Beauty® products are available through Amazon, with fast shipping and secure checkout. A new Sublime Beauty® Amazon web store will launch soon as well.