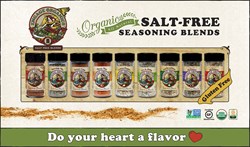 "A former Parsley Patch customer was so happy to see the blends again, she bought 17 jars at one time at the Pacific Market in Sebastopol," says Jeremy Fitzpatrick from Engage Organics shipping headquarters in Santa Rosa, CA.
Santa Rosa, CA (PRWEB) December 30, 2013
Sonoma Country is rallying behind Engage Organics Salt-free Seasoning Blends now that the original Parsley Patch recipes are available again.
Pat Gage, along with her husband, Jon, son, Jason Sherwood (41), and nephew Jeremy Fitzpatrick (36) have watched their favorite Parsley Patch Blends fade into oblivion over the years. When Pat Gage's favorite Garlicsaltless became unavailable, the family made the decision to bring back their secret recipes in an organic, salt-free, Non-GMO, and Gluten-free rendition to a new generation of consumers. Ironically, the Gages' are finding that many people have been asking for their seasonings over the intervening years.
"One woman actually got tears in her eyes when she realized the recipes are the same ones she had cherished under the Parsley Patch Salt-free Blends brand," says Pat Gage, after doing a demo at Oliver's Market in Montecito Center in Santa Rosa.
Engage Organics is a small family business keen on teaching and maintaining the entrepreneurial skills needed to create a successful small business.
Cousins, Sherwood and Fitzpatrick, have recently created their own "hot" barbecue rub that turns beef, chicken, ribs, fish, pork, and veggies in gourmet faire. The young food enthusiasts are proud their new product is 100% USDA organic, salt-free, and gluten-free. "There is nothing like it on the market," says Jason Sherwood.
Engage Organics Salt-free Seasoning Blends come in 9 varieties. Look for the Original All-Purpose with and without sesame seeds. Of course, the famous Garlicsaltless Blend makes the best garlic bread on the planet; while Tuscany-Mix puts zip into anything pasta. The Mexi-Mix is a sure bet for replacing those high sodium taco seasoning packets with real flavor instead of salt. And if you want a Starbuck's treat in your cup of java at home, try Sweet-Cinn and gain the cholesterol lowering benefits of cinnamon in a stir. Engage Organics Lemon Pepper is completely void of sugar and salt, which are the main ingredients in most Lemon Peppers. Engage Organics Lemon Pepper has pucker power and is flying off the shelves. Don't miss It's-A-Dilly, a cult favorite for salmon and beyond. And lastly, the new Go-Grill-A-Rub turns barbecue into bliss.
If you would like more information about Engage Organics Salt-free Seasoning Blends, go to http://www.engageorganics.com.
# # #
Media Contact: Pat Gage
Engage Organics Salt-free Seasoning Blends
707-387-0705
http://www.engageorganics.com