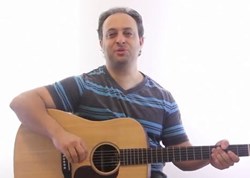 (PRWEB) December 28, 2013
In this guitar lesson, now available on YouTube.com, Claude Johnson teaches how to play Time of Your Life by Green Day.
In this part two of two guitar lessons, Claude teaches how to play Time of Your Life by Green Day. Claude starts off by reviewing what was covered in part one, the chords and strumming. Next he discusses the "three steps to learning any song," which are: 1. learn the chords, 2. learn the chord progression, and 3. learn to play the complete song. All of the chords used in this song are from what Claude calls "the seven basic chords;" the chords used are G, Cadd9, D, Em, & C, split into three chord progressions. The first chord progression is G, Cadd9, & D played as: two bars of G, one bar of Cadd9, and one bar of D. The second chord progression is Em, D, C, & G played as one measure each chord. The third chord progression is Em, G, & D played as one measure of each chord in the following order: Em, G, Em, G, Em, G, D. Claude reviews all of the progressions once more and then puts it all together. You can learn all of this and more by going to GuitarControl.com/beginner.
American Punk Rock band Green Day was formed in 1987 in Berkeley California and was part of California's Punk Scene along with bands like The Offspring and Rancid. The group has won five Grammys and has sold over 75 million albums world wide, making them one of the world's best selling groups of all time.
Claude Johnson
Claude Johnson, a native of Philadelphia, PA, began playing guitar in 1990 after being inspired by players like Jimi Hendrix, Eric Clapton, and Stevie Ray Vaughn. He is the creator of GuitarControl.com and has helped 1000's of people to learn to play the guitar with his critically acclaimed instructional DVD courses, all available at GuitarControl.com
About GuitarControl.com
GuitarControl.com is the leader in modern guitar instruction. It's packed with recourses including articles, video lessons, and the best videos in the business for the beginner to the advanced guitar student taught by the best instructors out there. Whether you are into the blues, rock, jazz, metal, folk, or anything in between, they have you covered.