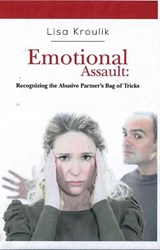 This book is great for someone who is looking for the comfort of knowing they are not alone.
Minneapolis, Minnesota (PRWEB) December 30, 2013
For a woman who is in an abusive relationship, finding resources without her partner knowing about it can be challenging. This is especially true for books that a controlling partner may prevent her from reading. Fortunately, the Kindle device by Amazon allows people to read books discretely. For the next six days, women who have serious questions about their intimate relationship can get "Emotional Assault: Recognizing an Abusive Partner's Bag of Tricks" at a tremendous discount.
This compassionate, eye-opening book has the potential to change lives for the better. The author discusses several ways that her ex-husband used emotional manipulation to control her throughout their relationship of over 15 years. While these tactics are common among abusive men, it can be difficult for the emotionally abused woman to understand what is happening.
This book cuts through the abuser's arsenal of tricks in a no-nonsense, often humorous manner. It empowers women to understand that the discomfort they feel at their partner's behavior is not all in their head. That knowledge makes it easier to decide on the future of the relationship.
Kindle Download Product Details
File Size: 352 KB
Simultaneous Device Usage: Unlimited
Sold by: Amazon Digital Services, Inc.
Language: English
ASIN: B00DJE9YTM
Text-to-Speech: Enabled
Lending: Enabled
Book available for free download for Amazon Prime members.
Paperback Product Details
76 pages
Product Dimensions: 0.2 x 6 x 9 inches
Shipping Weight: 5 ounces
Average Customer Review: 4.7/5.0 stars, 30 ratings (22) 5-star ratings, (6) 4-star ratings, (2) 3-star ratings
ISBN-10: 1482704897
ISBN-13: 978-1482704891
About the Author: "Emotional Assault: Recognizing an Abusive Partner's Bag of Tricks" is Lisa Kroulik's first published book. Ms. Kroulik is passionate about helping others recognize and take a stand against abusive behavior. She also works as an online copywriter and has produced 10,000 articles written towards search engine optimization since 2011. She is available to help new clients with their online content needs.