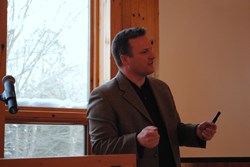 Hersey, MI (PRWEB) December 30, 2013
Paul is a financial professional who owns Integrity Financial in Mt Pleasant and Fremont and a long-time supporter of Eagle Village. He received his BA from Concordia University and his Master's degree from Central Michigan University.
Molitor International Training Initiative (MITI) is a leadership opportunity that a select group of youth at Eagle Village are invited to participate in when they show initiative in their individual programs. Public speaking, problem solving, career planning and time management are some of the many areas covered during the six-week course.
During his message to the kids, Pollatz shared some of his own ups and downs on his journey. "If you're not in the valley, you can't see how high the mountain is. You get to see the heights of where you can get to when you're down there. True success in life only comes when you realize the One and Only Who values you more than anything or anyone else in this world."
Pollatz' personal message to the kids was this:
"You are entering a faith walk. You've begun that faith walk with this MITI program. You have a toolbox full of things you can use in life but one thing it didn't give you is a map. Your map is going to be different than her map; his map is going to be different than their maps. Some of you are going to have peaks that are much higher and some will have valleys much lower. If you're one of those people, you may ask, 'Why me?' Well, you can say 'Why me?' and be a victim or you can say, 'There is value in me that only my God knows and he's bestowed ways upon me that I can grow and flourish, only in the eyes of God.'
Pollatz closed with a story of a silversmith who was explaining to a visitor how he refined or purified silver.
'You see that flame. I purify the silver by bringing it closer to the flame.' The visitor asked what happens then. The silversmith explained that the flame burns off all the dirt and minerals that don't have a value on that piece of silver, to purify it. The visitor asked, 'Well, how do you know when it's done?' The silversmith said, 'When you see your reflection in it.'
Guess who is working on you right now? Guess who is the Silversmith in your life? And sometimes He's going to have to bring you closer to the fire to burn off all that unnecessary junk. He wants to see His reflection in you and the only way he can do that is to keep walking you through one challenge, one opportunity after another."
Eagle Village is a non-profit family treatment center providing Intervention Services and Camps, Residential Treatment, Foster Care and Adoption services for all counties in Michigan. If you know of a family in crisis that may benefit from these programs contact Eagle Village at 231-832-2234 http://www.eaglevillage.org.