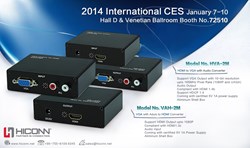 (PRWEB) January 03, 2014
Recently, Hiconn Electronics, a popular electronics wholesaler based in China, has announced that it will attend the 2014 CES (Consumer Electronics Association). Now, all its workers are ready for the big show. The CEO of the company is very excited when talking about the coming show.
According to the CEO, Hiconn Electronics will display more than 60 new products and designs at the show. All the company's workers are excited about the 2014 CES. It is the global stage where next-generation innovations are introduced to the marketplace. As a significant hands-on event of its kind, CES features all aspects of the industry.
"We feel honored to show our latest products. The CES offers an extraordinary opportunity for exposure for electronics companies like ours. We will launch a full array of the world's first, flexible, durable, customer-oriented products there. We believe that the excitement and energy of the big show will provide great momentum to propel our company, products and partnerships into the coming new year," he says.
The company will show a lot of its new designs, including VGA with Audio HDMI Converters, HDMI to VGA with Audio Converters, USB 2.0 to DVI Adapters, VGA+Audio to HDMI Adapters, Right Angle HDMI Cables and so on. It will make full use of this great platform to show their high end products and excellent service to worldwide people.
About Hiconn Electronics
Hiconn Electronics (Shenzhen Hiconn Electronics Co. Ltd.) is devoted to designing and manufacturing a wide range of connection cables and customized cable assemblies, offering many HDMI cables, VGA cables, SATA cables, USB cables, 1394 cables, DVI cables, SCSI (Small Computer System Interface) and more. For more information, please visit http://www.hiconn.net/.
Contact Person: James Yin (Sales Director)
Company Name: Shenzhen Hiconn Electronics Co., Ltd.
Address: Shenghua Building., Xixiang Road., Baoan District, Shenzhen, Guangdong Province, China
Zip Code: 518102
Tel: +86-755-8109 8345
Fax:+86-755-2779 3497