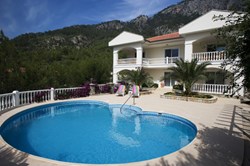 Estate agents in Turkey should be bracing themselves for an extremely busy 2014."
(PRWEB UK) 31 December 2013
A representative of Turkey's Shopping Mall Investor's Association (AYD) this week predicted total turnover for 2013 in the Turkish retail sector would be around 60 billion lira while next year that figure is expected to increase even higher to around 75 billion lira.
The upsurge and confidence in spending in the country is a result of Turkey's avoidance of the calamitous economic slump which has plunged so many European countries together with North America and Canada into dire financial straits in recent years - and which depressed citizens and governments of both Spain and Greece are still battling to come to terms with.
But it's not just the retail sector that mirrors Turkey's growing prosperity and attraction to foreign buyers. The Global House Price Index showed that Turkey has the sixth fastest growing property market in the world. Figures for the third quarter of 2013 showed that house prices had risen by around 12.5 per cent over the preceding 10 months from January to September last year. Countries which were only slightly ahead of Turkey included (in order) Dubai, China, Hong Kong, Taiwan and Indianesia.
Director of Oceanwide Properties Suleyman Akbay said: "There is no doubt that Turkey's property market is on the up and if last year if anything to go by then estate agents in Turkey should certainly be bracing themselves for an extremely busy 2014."
Mr Akbay, whose company boasts offices and bi-lingual staff in both Turkey and London and which specialises in property in Turkey within the Mediterranean coastal resorts of the country such as property for sale in Fethiye and Kalkan attributed the growing interest in property investment in the country by foreign nationals, to the fact property was still reasonably inexpensive compared to other foreign climes. He also pointed to numerous new infrastructure projects which had either been completed or started in the country (such as the East-West underwater rail tunnel) and the fact that Turkey was ever more closer to becoming accepted as a member of the European Union.
Until last week Turkey's economy was expected to grow by four per cent in 2014 - a percentage which is at least one per cent higher than many European and Middle Eastern countries. Turkey's economic growth for 2013 is expected to sit at around 3.6 per cent as predicted earlier this year.
Meanwhile, according to UK economic consultancy firm the Centre for Economics and Business Research (CEBR) Turkey is expected to become the 12th biggest global economy by 2028 with a total gross domestic product (GDP) of around $3.46 trillion. Other emerging economies include Russia, India and Brazil.
Those interested in investing in property in Turkey prior to a predicted rise in property prices as its economy picks up can view a portfolio of the latest apartments and villas from Oceanwide Properties where helpful and experienced staff can guide buyers through the intricacies of buying housing in Turkey. The popular estate agency specialises in property for sale in Kalkan and Fethiye.