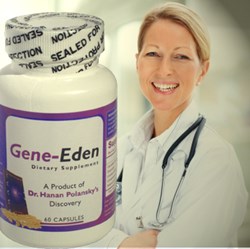 If you suffer from CFS, you should talk to your doctor about Gene-Eden-VIR. As the CBCD's clinical study said, 'healthcare practitioners should recommend Gene-Eden-VIR as a treatment against long-term fatigue, and specifically, against chronic fatigue.'"–
Rochester, NY (PRWEB) December 31, 2013
Many patients with Chronic Fatigue Syndrome (CFS) want to have normal, active lives. However, even normal activities can have a "significant impact upon daily functioning (1)." Thus, some treatment programs rely on activity-based treatments/rehabilitation. As authors of a study noted, "Most recommended treatments aim to alter activity patterns based upon assumptions of activity avoidance (1)." In other words, since activity can make the condition worse, doctors may recommend stopping the activity. The problem with this is that many patients do not want to avoid normal activities because doing so can cause "feelings of anger, guilt, anxiety, isolation and abandonment (2)," according to the CDC in a page last updated on May 14, 2012. This may be due to the misconception that CFS patients may be "faking" their symptoms. However, these symptoms, including disabling fatigue, are very real.
As the CDC notes, "Chronic fatigue syndrome, or CFS, is a devastating and complex disorder. People with CFS have overwhelming fatigue and a host of other symptoms that are not improved by bed rest and that can get worse after physical activity or mental exertion. They often function at a substantially lower level of activity than they were capable of before they became ill (2)."
"The fatigue of CFS is accompanied by characteristic illness symptoms lasting at least 6 months. These symptoms include: increased malaise (extreme exhaustion and sickness) following physical activity or mental exertion, problems with sleep, difficulties with memory and concentration, persistent muscle pain, joint pain (without redness or swelling), headache, tender lymph nodes in the neck or armpit, (and a) sore throat (2)."
While there are no FDA approved treatments for CFS, there is a proven, natural remedy against fatigue. A clinical study, conducted by scientists at the Center for the Biology of Chronic Disease, and which followed the FDA guidelines for clinical studies, showed that Gene-Eden-VIR safely and effectively decreases the feeling of fatigue in treated individuals. Specifically, the study found that the natural antiviral product decreased the feeling of general fatigue, the feeling of physical fatigue, and the feeling of mental fatigue (3). The abstract of the study was posted on the Center for the Biology of Chronic Disease website on December 28, 2013 ahead of publication.
"If you suffer from CFS, you should talk to your doctor about Gene-Eden-VIR. As the CBCD's clinical study said, 'healthcare practitioners should recommend Gene-Eden-VIR as a treatment against long-term fatigue, and specifically, against chronic fatigue.'" – Mike Evans, polyDNA
To learn more about Gene-Eden-VIR, and how it reduces fatigue, visit http://gene-eden-kill-virus.com/decreases-fatigue.php. All orders of Gene-Eden-VIR are completely confidential, and no information is shared or sold to any third party. Privacy is assured.
References:
(1) Experiences of daily activity in chronic fatigue syndrome/myalgic encephalomyelitis (CFS/ME) and their implications for rehabilitation programmes. Published on December 27, 2013.
http://www.ncbi.nlm.nih.gov/pubmed/24369769
(2) CDC - Chronic Fatigue Syndrome (CFS). Last updated on May 14, 2012.
http://www.cdc.gov/cfs/symptoms/index.html
(3) Gene-Eden-VIR is Effective Against Fatigue: Results of a Post Marketing Clinical Study Conducted According to the FDA Guidelines. Page last updated on December 27, 2013.
http://cbcd.net/Gene-Eden-VIR-Decreases-Fatigue-Clinical-Study.php
polyDNA is a biotechnology company that develops dietary supplements using the unique scientific method developed by Dr. Hanan Polansky, which is based on Computer Intuition.
In addition to his unique scientific method, Dr. Polansky published the highly acclaimed scientific discovery, called Microcompetition with Foreign DNA. The discovery explains how foreign DNA fragments, and specifically, DNA of latent viruses, cause most major diseases.
polyDNA developed Gene-Eden-VIR, an antiviral natural remedy that helps the immune system kill latent viruses.