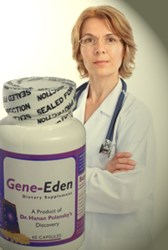 'We recommend that women take Gene-Eden-VIR for a time before choosing to undergo cold knife conization. Gene-Eden-VIR was clinically proven to reduce HPV symptoms.' – Mike Evans, polyDNA
Rochester, NY (PRWEB) January 01, 2014
polyDNA's latest survey centered on the cold knife conization procedure for the removal of HPV cervical lesions. The results showed that respondents did not know that most women need to undergo the procedure more than once. The need for a second procedure is probably due to the local nature of conization. That is, the procedure does not remove the virus from elsewhere in the body. For instance, cells around the area cut section and in other parts of the body may still harbor the virus. In such cases, the lesions tend to recur.
A study found that "Irrespective of the cervical intraepithelial lesion type or type of conization performed, patients may present cervical disease recurrence, perhaps due to the persistence of the virus in the uterine cervix, positive margins, presence of multifocal disease, and other factors inherent to the patient's genetic profile and immunity. Incomplete excision (removal) is associated with an increased risk of residual disease; 7–85% of patients with positive margins later present with residual disease, recurrence or invasive disease. However, even when the margins are free of disease, recurrences may also occur (1)." The study was published on April 23, 2013 in the journal Acta Pathologica, Microbiologica, et Immunologica Scandinavica (APMIS).
In other words, even though "the excision of transforming zone is the treatment of choice, both for CIN 2 and 3 (1)," cold knife conization is a short term, local solution. After a woman recovers from the procedure, high risk HPV can again cause cervical dysplasia, the abnormal cellular changes that must be removed. In addition, older women face a high chance of having to undergo the procedure once more. The study found that after conization, "…older women present a higher tendency of disease recurrence than the younger (1)."
polyDNA found that most women in its survey did not realize that there is a high chance of recurrence of HPV lesions following the conization procedure.
"We found that depending on socio-economic status, a lot of women didn't consider the fact that cold knife conization is a local treatment that targets only the abnormal cells and does not remove other cells that harbor the HPV virus that have the appearance of being normal. Moreover, they also don't realize that they might have to have a part of their cervix cut out more than once." – Mike Evans, polyDNA
One should recognize that cold knife conization only treats the symptoms. It does not target the underlying cause of the cervical lesions, that is, the HPV virus.
"We recommend that women take Gene-Eden-VIR for a time before choosing to undergo cold knife conization. Gene-Eden-VIR was clinically proven to reduce HPV symptoms." – Mike Evans, polyDNA
People with infected with the latent HPV virus can ask their doctors about Gene-Eden-VIR, or they can go online to learn more. Gene-Eden-VIR is a safe, natural product that was proven to reduce HPV symptoms in a clinical study published in the peer reviewed, medical journal Pharmacology & Pharmacy, in a special edition on Advances in Antiviral Drugs on August 12, 2013.
The study showed that Gene-Eden-VIR reduced HPV symptoms and was safe and effective (2). "Up to 70% of those studied reported a decrease in HPV symptoms (2)."
Each ingredient of Gene-Eden-VIR was chosen through a scientific approach. Scientists scanned thousands of scientific and medical papers published in various medical and scientific journals around the world to identify the safest, most effective natural ingredients that target the latent form of HPV (2).
Doctors can view the paper on Gene-Eden-VIR here: http://gene-eden-kill-virus.com/PP_Gene-Eden-VIR-is-Antiviral.pdf.
To learn more about Gene-Eden-VIR and HPV, visit http://gene-eden-kill-virus.com/HPV-Remedy.php. All orders of Gene-Eden-VIR are completely confidential, and no information is shared or sold to any third party. Privacy is assured.
Reference:
(1) Post-cervical conization outcomes in patients with high-grade intraepithelial lesions. Published on April 23, 2013.
http://onlinelibrary.wiley.com/doi/10.1111/apm.12064/full
(2) Gene-Eden-VIR Is Antiviral: Results of a Post Marketing Clinical Study. Published on August 12, 2013.
http://gene-eden-kill-virus.com/PP_Gene-Eden-VIR-is-Antiviral.pdf
polyDNA is a biotechnology company that develops dietary supplements using the unique scientific method developed by Dr. Hanan Polansky, which is based on Computer Intuition.
In addition to his unique scientific method, Dr. Polansky published the highly acclaimed scientific discovery, called Microcompetition with Foreign DNA. The discovery explains how foreign DNA fragments, and specifically, DNA of latent viruses, cause most major diseases.
polyDNA developed Gene-Eden-VIR , an antiviral natural remedy that helps the immune system kill latent viruses.