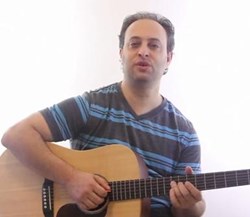 (PRWEB) December 29, 2013
In this guitar lesson, now available on YouTube.com, Claude Johnson teaches a cool blues lick in B minor pentatonic that incorporates the techniques of sliding, hybrid picking and double stops.
Hybrid Picking is a technique where the guitarist uses a flat pick with the thumb and first finger and finger picks with the remaining fingers. Double Stops is the technique of playing two strings at the same time, usually done using the hybrid picking technique.
Claude demonstrates this lick using the first position of B minor pentatonic that starts at the 7th fret of the 6th string. The first note of the lick is a B played at the 9th fret of the 4th string. Claude does a slide with his third finger from below to the 9th fret of the 4th string using a pick and then bars his first finger across the 3rd and 2nd strings at the 7th fret and picks both strings simultaneously with his second and third fingers, this is the hybrid picking technique. Next he plays the 9th fret on the 4th sting again, with the pick, and then bars his first finger across the 2nd and 3rd strings of the 9th fret and picks both strings together, again using the hybrid picking technique. Then he follows this by doing the first sequence again and finally ending by picking the 9th fret of the 4th string. This lick can be played repeatedly over the one chord of a 1-4-5 chord progression and can be simple moved up to be played over the four & five chords of the progression. Guitar TAB's are available for this lesson at GuitarControl.com.
Claude Johnson
Claude Johnson, a native of Philadelphia PA, began playing guitar in 1990 after being inspired by players like Jimi Hendrix, Eric Clapton, and Stevie Ray Vaughn. He is the creator of GuitarControl.com and has helped 1000's of people to learn to play the guitar with his critically acclaimed instructional DVD courses, all available at GuitarControl.com
About GuitarControl.com
GuitarControl.com is the leader in modern guitar instruction. It's packed with recourses including articles, video lessons, and the best videos in the business for the beginner to the advanced guitar student taught by the best instructors out there. Weather you are into the blues, rock, jazz, metal, folk, or anything in between, they have you covered.