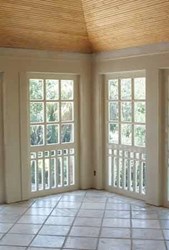 Wood's personality changes with the finish.
MIAMI, FL (PRWEB) December 30, 2013
It's impossible to track up the wood flooring in some sunrooms, even with the beach or a garden just outside the door, says Chris Noe, president of Venetian Builders, Inc., Miami. "That's because we install the flooring as a ceiling finish," Noe explained.
"Wood has a warm personality," Noe said. "It's welcoming. It's friendly. But it's also rich. Wood works wonders on the ceiling – especially a volume ceiling – of an aluminum sunroom addition."
Venetian builds not only aluminum frame sunrooms but also patio covers and screen pool enclosures throughout South Florida, including in Pembroke Pines, West Palm Beach, Fort Lauderdale, Hollywood, Kendall, Dania Beach, Weston and the Keys. It custom designs every project, regardless of its size and budget.
Wood is not used on floors so much because of the Florida humidity, Noe said. Ceramic tile is the floor covering of choice in South Florida," he said. "But on a ceiling, where the wood won't be walked on and collecting sand, dirt and moisture, it brings attributes that homeowners welcome."
Noe offers these considerations for homeowners thinking about a wood ceiling treatment:
Natural properties: "Wood is a part of nature," Noe noted. "That can make it especially pleasant in a room that helps homeowners connect with nature – a sunroom overlooking a garden or yard, specially if the windows open to screens, or even a screen patio cover that is, for all intents and purposes, an outdoor room."
Stains: "Wood's personality changes with the finish," Noe said. "It can be stained to complement the woodwork in the home it expands. A lighter finish is brighter and airy. A darker finish is more formal and restrained."
Ceiling volume: "The darker the finish, the lower a ceiling may seem," Noe cautioned. "Darker finishes may work better on a cathedral or vaulted ceiling. Medium or lighter stains may feel less constraining on a lower ceiling."
Wood isn't simply glued to a ceiling panel, Noe said. "It must be installed so that it breathes and can expand and contract without consequences. Our craftsmen have considerable experience in wood ceiling installation."
Venetian offers free estimates on the installation of Florida rooms, patio covers and pool enclosures. It also installs retractable awnings and aluminum pergolas for shade, and aluminum wood-look lattice for privacy. It bases designs on a free in-home consultation with homeowners. Consultations include a curbside visit by the Venetian mobile showroom.
For more information, call 866-596-2427.