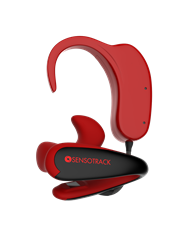 Biel, Switzerland (PRWEB UK) 30 December 2013
Monitoring human vitals such as heart rate, blood pressure, respiration rate, and oxygen saturation, along with other biomedical parameters can help recreational athletes to determine the correct effort for every workout.
With SensoTRACK™, the Swiss health technology product company Sensogram Technologies AG provides a unique and innovative tool for keeping track of these types of vital signs while training.
SensoTRACK™ addresses the needs of health-conscious people who like to monitor their effort while walking, running, cycling or engaging in other sports or activities. SensoTRACK™ is worn on the ear and allows the monitoring of vital signs on smart phones or remotely over the cloud-based services. Monitoring the vital signs helps an athlete to optimize his activity and achieve higher performance which otherwise would not have been realized. The advisory by SensoTRACK™ Virtual Coach helps the user to meet the set goals, whether it's losing weight or meeting certain speed target.
"SensoTRACK™ is built on several highly advanced sensors," explains Dr. Vahram Mouradian, the Founder and CEO of Sensogram Technologies AG. "It is a miniature mobile device allowing to monitor vital signs and several physical activity parameters while the user is on the move. What conceptually differentiates SensoTRACK™ from competing products in the market for mobile health and activity monitoring - is its ability for cuff-less tracking of blood pressure and respiration rate", added Dr. Mouradian.
With this unique capability SensoTRACK™ provides exciting new possibilities for monitoring and improving training regimes. Worldwide, the wellness and sports communities are eager to adopt new devices that enable a tracking of physical activities and provide monitoring capabilities and positive feedback.
SensoTRACK™ is different from other health monitoring products because it tracks a whole range of parameters that combined provide a unique and individual feedback on personal performance and fitness. SensoTRACK™ was first demonstrated at the World Medtech Forum Lucerne 2013 in Switzerland by the team of Sensogram Technologies AG.
SensoTRACK™ is an activity and performance monitor, is the first commercial product of Sensogram Technologies AG. SensoTRACK™ measures the following parameters: http://www.sensoTRACK.ch . Having all the vitals along with activity parameters available to the user allows for a fuller understanding (more breadth and depth) of how one's individual body works and what one needs to do to reach his athletic, weight loss, and other activity-related goals, while securing the level of safety. It will roll out in global markets in the first half of 2014. Company's products are made in in Switzerland, making Sensogram Technologies AG one of the leading Swiss companies in the increasingly popular field of remote health and wellness monitoring.
About Sensogram Technologies
Sensogram Technologies AG is a Swiss health and wellness product company specialized in designing, producing and marketing innovative bio-sensors implemented in the form of intuitively easy-to-use wearable wireless mobile devices. It operates internationally consolidating a multinational team of experts. Sensogram Technologies AG is based in Bern area, Switzerland. For more information visit http://www.sensogram.com.
Contact
For questions or further inquiries, please contact Ms. Karin Roth at Karin(at)Sensogram(dot)com.
Phone: +41 79 616 70 95