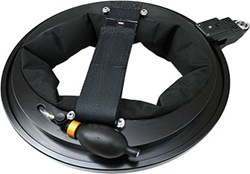 Florida State's strength coach Vic Viloria has purchased and uses more Iron Necks than any other BCS Team. - Mike Jolly
Redondo Beach California (PRWEB) December 31, 2013
The Iron Neck's CEO and product inventor, Mike Jolly, announced today that he will be hosting a free Concussion Prevention Clinic to educate all strength coaches, sports coaches, athletic trainers, physical therapists, athletes and parents who wish to learn why and how a strong neck prevents concussions. The clinic is in honor of two Iron Neck Teams making it to the BCS National Championship Game. Mike will not only explain the physics behind concussion preventing neck strength but also the best ways to build a powerful and muscular neck safely and effectively.
When asked recently at a strength and conditioning event if it was really possible to prevent concussions the CEO responded, "We can prevent concussions. It is simple physics. It has nothing to do with the helmet. It has nothing to do with the mouth piece. It has everything to do with neck strength. It is about dissipating the force of blows before they can damage the brain."
Jolly went on to point out that 14 teams playing in bowl games this season are Iron Neck users and both Florida State and Auburn have purchased The Iron Neck and use them to build the strongest necks in college football.
When asked why he states so definitively that The Iron Neck builds the strongest necks in sports. He replied, "It does this by targeting the neck muscles and working them out with horizontal and rotary resistance. The Iron Neck is the only machine that does this and the technology is patented. The neck is put through a series of movements under load which simulate the high impact environments these athletes play in, preparing their head and neck for the violent blows which could damage their brains."
The Clinic is free to all and will last one hour. There will be a presentation which will include demonstrations and a question and answer period. Please RSVP by calling 310-776-0621 or emailing info(at)ironneck(dot)net The address will be provided when you call or email.