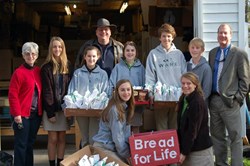 They were moved by this project, especially when they realized that there are 100 families at Ware Academy and Bread for Life is helping feed and support three times that each week.
Gloucester, Va. (PRWEB) December 30, 2013
The entire campus of Ware Academy, as well as student families and alumni, came together this fall to support the Bread for Life Community Food Pantry.
On Dec. 17, Ware Academy's National Junior Honor Society students, Student Council Association leaders and eighth grade Team Captains delivered roughly 20 boxes of food and assorted toiletries following a school wide drive.
The entire school came together to execute this community service project, said Ginger James, Ware Academy's Director of Admissions and Special Events.
Primary school students colored 96 toiletry bags, lower school sorted toiletries to fill each bag, and middle school students secured holiday tags to the bags and sorted food.
Founded in 2009, the Bread for Life Community Food Pantry is located on the grounds of the Church of St. Therese on Main Street in Gloucester and operates as a true community food pantry, actively being supported by volunteers, donations and contributions from churches throughout the region.
The pantry is open Monday and Friday from 10 a.m. to 1 p.m. and Wednesdays from 2 to 5 p.m. for residents of Gloucester. Food is purchased and donated.
Bread for Life is on track to handle more than half a million pounds of food this year, making it the largest food assistance program in Gloucester and among the top three in all of Hampton Roads.
"We consider a family active if they have come to the pantry at least once in the preceding year," said Bob Quinzel, Executive Director of Bread for Life. "Back in July, we had maintained around 1,000 to 1,050 active families for well over a year. By this Sept. 1, we hit 1,100. As of Nov. 25, we now have 1,407 active families, 174 new families and the rest returning after more than a year away."
At the time of Ware Academy's delivery, Quinzel told the students that Bread for Life was serving roughly 350 families each week, families that range in size from two to 14 people.
"During the bus ride back to Ware Academy, the students that helped make the delivery were silent," James said. "They were moved by this project, especially when they realized that there are 100 families at Ware Academy and Bread for Life is helping feed and support three times that each week. We were humbled and honored to help this important cause in our community this season."
ABOUT WARE ACADEMY:
Located one mile from Main Street in Gloucester's historic Courthouse district on a 19-acre campus, Ware Academy is a co-ed, independent day school for students in Pre-Kindergarten 3 through eighth grade. Ware Academy empowers each student to achieve academic excellence, emphasizing the development of mind, body and character.
The primary objectives are to educate the whole child to his fullest potential and for students to acquire a respect and a desire for learning in order to develop into independent, life long learners in preparation for productive and fulfilled lives.
Founded in 1949, Ware Academy is a non-profit, non-denominational, non-sectarian school promoting ethnic and racial diversity. Ware Academy selects students on the basis of academic potential and developmental readiness without regard to race, color, creed, or ethnic origin.
Ware Academy is accredited by the Virginia Association of Independent Schools, the National Association of Independent Schools, and the Education Records Bureau and the Secondary School Admissions Test Board. Ware Academy is also a member of the National Middle School Association, the National Junior Honor Society and the Association of Supervision in Curriculum Development.
Keep in touch with Ware Academy online at http://www.wareacademy.org, on Facebook at /WareAcademy and on Twitter @WareAcademy1.