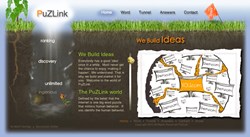 (PRWEB) December 30, 2013
Search Engine Tunneling | PuZLink.com
Having pioneered search engine tunneling as the fastest, most effective method of connecting businesses and consumers on the Internet, PuZLink.com has announced a system update that is designed to produce even better results for companies doing business online.
PuZLink.com works with businesses to develop ideas by utilizing the inherent advantages presented by the Internet. The company reverses the typical online strategy of building a website and then developing communication systems. Instead, PuZLink.com starts by developing a systematic approach to communicating on the Internet, and then using the brand equity developed in that process, to create a web presence that will be clear, concise and easy for the consumer to find.
"Online success is really all about being found on the Internet," said David Capo, founder of PuZLink.com. "Working within the guidelines established by the major search engines, we developed a proprietary approach for businesses to connect with consumers online. Now, we've refined that approach to help our clients accomplish more in the global marketplace via the World Wide Web."
Web designers and programmers regularly monitor the algorithms utilized by the major search engines, to better understand the techniques for creating content that will produce the most effective results within those established guidelines.
"Search engines are powerful tools that serve as a quality control center for the Internet universe," said Capo. "By understanding and respecting their purpose and the parameters for web traffic that they establish and update on a regular basis, companies can create content that is both compelling and quick to find."
Search engine tunneling is based on the idea that the Internet is a giant puzzle, the solution to which is found in words. By including the correct words in online content, and building their brands around those words, companies can successfully reach consumers with specific information about their products or services.
PuZLink.com constantly monitors the Internet world to better understand the trends that are shaping how people search and what they are searching for. Going beyond the tactics of search engine optimization (SEO), which uses keywords, coding and other strategies to gain search results that direct people to websites, PuZLink.com's search engine tunneling technique uses the power of the Internet to identify pockets of consumers and connect them directly to a business.
The company's most recent update is based on understanding the patterns behind consumer searches, and writing content to fit those patterns.
"We've changed the way we write content for our clients, to fine tune the process for better results," said Capo. "Google has completed some outstanding updates over the past year, as have several of the other major search engines, and our update is designed to help businesses understand those and create content that responds to them in the most effective possible way."
About PuZLink:
PuZLink LLC works with companies to succeed online by building ideas that will in turn build a business. The company welcomes inquiries from individuals or businesses interested in harnessing the potential of the Internet to build an online enterprise utilizing PuZLink's proprietary approach to search engine tunneling (SET). More information is available online at http://www.PuZLink.com.
Media Relations:
Tom Delamater
Delamater Media Group
(330) 437-5975