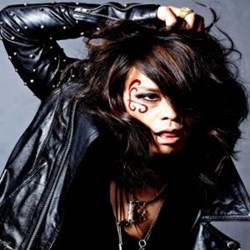 Tokyo's Electro-Rock sensation is set to take the US by storm.
Tokyo, Japan (PRWEB) December 31, 2013
Galaxy 7 is an Electro-Rock phenomenon unlike anything you have ever seen or heard before. Being dubbed Asia's answer to Mick Jagger, Galaxy 7's unique style of music and his command of his audience at his live performances immediately catches your attention and draws you in. Created in 2008 by Daisuke Tsutsui, Galaxy 7 breaks new ground with music that people can sing to, dance to, and listen to.
Listen to Galaxy 7 on TheIndie.biz
Born and raised in Tokyo, Japan, Tsutsui dreamed of being a musician after he was introduced to rock music at a very early age. At 19 years old, he traveled to London and spent time experiencing London's live music scene. It was here that he enhanced his skills and honed his craft by closely observing various nightly acts. When he returned to Japan he decided to pursue a career as a professional musician in various groups and genres. In 2008 Tsutsui formed Galaxy 7, and he has not look back since.
For more than 20years, Galaxy 7 has built a career in the music industry where he has credits as a songwriter, composer, arranger, producer, programmer, and vocalist. His lyrics stem from life experiences, and they reveal just enough about his personal to draw his audience in.
Galaxy 7's live performances are entertaining and visually stimulating. These performances have drawn accolades from local and international critics. He has appeared as a guest artist at London's well known "Battle of The Bands", and he performed in New York, France and Indonesia.
Galaxy 7's music has won various awards including "Best New Artist" - 2006 from Spain's FM radio station Radio Circulo, and "Best Electro/Dance Song" in Indonesia's AVIMA 2010 Music Awards. The sky's the limit for Galaxy 7 as his music is sit to air in the US, Latin America and the Middle Eastern airwaves in the coming year.
About theindie.biz
theindie.biz is the music industry's leading marketplace for indie music. Founded by Damon Cleveland in 2008, theindie.biz helps expose new music created by indie artists and indie labels to a global audience of music lovers and impassioned fans. theindie.biz has 20,000 registered artists members in rock, pop, hip hop, R&B, and other genres. Additionally, theindie.biz has over 200,000 likes on Facebook (http://www.facebook.com/theindiebiz) and more than 100,000 followers on Twitter (http://www.twitter.com/theindie). To learn more, please visit http://www.theindie.biz.