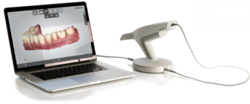 CAP has an exquisite dental system for digital impressions in manufacturing, caps, crowns, bridges and dental implant prosthesis.
Marietta, GA (PRWEB) December 30, 2013
Marietta Dentists, Kirk Kimmerling DDS and Suzanna Aguilera DMD of Verde Pointe Dental Associates, have officially announced the addition of their third digital impression crown and bridge scanning system. The doctors originally purchased the Cadent iTero seven years ago, moved to 3M True Definitions Scanner and now have moved to Custom Automated Prosthetics' CAP 3Shape Trio Color Scanner. The doctors have recognized the significant advances in optical scanning devices and want to provide the fastest, best care possible for dental patients.
"CAP has an exquisite dental system for digital impressions in manufacturing caps, crowns, bridges and dental implant prosthesis," says Dr. Kimmerling. Our dentists are able to provide quicker and even more accurate scan of the tooth needing prosthesis for dental coverage. The advancements in scanning allow transmissions of the tooth's image to the dental lab in just five and half minutes, and the crown to be made within an hour.
The new Trios scanner benefits not only the patient but the dentist also by streamlining workflow. The digital impressions are immediately sent to the lab for quick and easy communication while the patient is still in the office. "This produces high quality results and a highly accurate restoration," says Dr. Kimmerling. "The scanner reduces adjustments necessary to the crowns during seating." Patients appreciate the extra comfort of skipping traditional impression materials. The technology is highly advanced.
Kirk Kimmerling, DDS and Suzanna Aguilera, DMD are Marietta cosmetic dentists and emergency dentists that are paving the way for the future of dentistry. The office is technologically sophisticated in not only equipment and procedures, but also developing dental materials via Kimmerling Holdings Group, LLC and fiteBac SkinCare, LLC, Dr. Kimmerling's biotechnology firms. The office maintains 13 operatories, each of which is equipped with a display monitor on which digital x-rays and intra-oral pictures can be examined, and patient education videos can be viewed. The office also employs highly advanced technologies, including: (1) Logicon, a program that can digitally measure the extent of tooth decay, which allows detection of 20% more cavities and helps prevent misdiagnosis; (2) "Collimators," a conduction of x-ray tube heads that decrease radiation exposure to the patients and staff by 5-fold; and (3) iTero, an advanced restoration impression system and digital scanner that produces more accurate restorations than traditional methods. The overall well-being of each patient can also be improved by adding a DNA salivary test, which allows the office professionals to better determine a patient's specific risk of periodontal disease as well as certain types of oral cancer. The office is the first to use fiteBac SkinCare Germicidal Hand Softening Gel, an advanced hand sanitizer without the harshness to skin from traditional alcohol-based hand sanitizers. Drs. Kimmerling and Aguilera invite new patients to meet their exceptional staff and experience and benefit from state of the art dental care. The office offers a broad range of services from teeth cleaning, teeth whitening to veneers and Marietta dental implants and Marietta root canals.