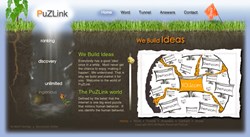 (PRWEB) December 30, 2013
Search Engine Tunneling | PuZLink.com
PuZLink.com has announced the introduction of a new approach to business communication and public relations, one that is designed to help businesses establish an online presence and compete in the global Internet marketplace.
Through its search engine tunneling technology, PuZLink.com encourages businesses to think first about its branding messages and how to best communicate them to the Internet world through a series of strategic public relations tactics.
"Traditional public relations has successfully brought parties together using techniques designed to establish mutual understanding," said David Capo, founder of PuZLink.com. "In the Internet world, that can't occur until there is mutual awareness, so our approach to public relations involves connecting consumers and businesses based on their shared interests and objectives."
According to Capo, much has changed in the two decades since the Internet was introduced to the public as a source of information and commerce. During that time, it has changed the way people communicate and do business. At its core, however, is the fact that the Internet behaves like one giant word puzzle.
"When you use a search engine, you type in a word or words, and that's what you get back—more words," said Capo. "You review the selections offered—more words—and click on one, which takes you to a website that is also driven by words."
"Are words important? You bet they are," he said. "That's what our technology recognizes and utilizes: the most effective use of words to describe a company's products and services in a way that is appropriate to the search engines and their algorithms."
As the World Wide Web developed in the 1990s, "it was almost like the Wild West," Capo said. There was exponential growth as the popularity of the Web exploded, yet few rules and guidelines for how people and businesses used it as a communications tool. Search engines arrived on the scene and began to sort through the chaos, helping restore order and shape the way consumers would find and use information.
"That's a good thing, and one of the most remarkable things to occur in the ongoing development of the Web," said Capo. "Our approach helps companies recognize the value of search engines and helps them promote their businesses using public relations techniques designed specifically for the Internet world."
Believing that the Internet is a big word puzzle that mimics human behavior, PuZLink.com has applied years of research and development to create a communications system that is designed to help consumers and businesses find each other and connect in a way that is mutually beneficial.
For more information about how search engine tunneling can help businesses develop a powerful online presence, visit PuZLink.com.
About PuZLink:
PuZLink LLC works with companies to succeed online by building ideas that will in turn build a business. The company welcomes inquiries from individuals or businesses interested in harnessing the potential of the Internet to build an online enterprise utilizing PuZLink's proprietary approach to search engine tunneling (SET). More information is available online at http://www.PuZLink.com.
Media Relations:
Tom Delamater
Delamater Media Group
(330) 437-5975