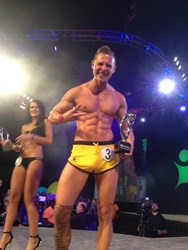 "Darren decided to get off the sofa and change his life." Reynolds said. "That's inspiring to me and is hopefully inspiring to others as well."
(PRWEB) January 04, 2014
GJ Reynolds, host of Beachlifestyle Radio Show with co-host Neil Haley, The Total Tutor, interviewed UK VI Model Winner Darren Noad to find out why he decided to join and participate in the 90-Day Health Challenge.
Noad, a National Director of Visalus, won the UK VI Model Competition and is the 2014 UK VI Model. He will be on the cover of the VI Life Magazine in January.
In this interview, Noad discusses how he joined the 90-Day Health Challenge and why he decided to change his life. He also explains why he went public with his goal.
"I was looking to get back in shape and I found out about Visalus," Noad said. "I love the products. Then the first thing I did is went on Facebook and set my challenge goal. Everybody pushed the votes for me and they cared for me. They sent me a message to push me on."
During the interview, Noad also talks about how going to Visalus events helped him stay on the challenge, how he was able to promote himself by using the community to reach his goal, his setbacks and more.
"There were times some days I had my ups and downs, and I was stressing myself," Noad said. "But my friends and my family supported me. The community and the positive messages, that is what gives me that drive to move on."
According to Noad, his success was his motivation to help others and help eliminate obesity.
"Darren decided to get off the sofa and change his life." Reynolds said. "That's inspiring to me and is hopefully inspiring to others as well."
You can find out more information on Darren Noad by clicking here. You can listen to the live interview by clicking listen here.