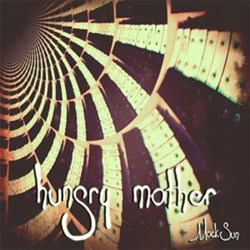 Kali lives and breathes creative self-expression and boundary-pushing aesthetic exploration.
Wilkes-Barre, Pennsylvania (PRWEB) December 31, 2013
After a year of musical experimentation and manipulation, Mock Sun have released their first full-length album, Hungry Mother. Each of the thirteen tracks promise to take the listener on a journey through intense sound-experience. The album, which has been regarded as "a genuine modern-day masterpiece" by independent music columnist and entertainment correspondent Bill Thomas, is available on iTunes for purchase.
Mock Sun's music can also be heard on TheIndie.biz.
The composition of the album was an experiment in sound that grew and developed over the course of a year. According to Thomas, the end product is "melodic and pleasing to the ear just as much as it is stimulating to the psyche and soul." Each track captivates the listener via an expression of beauty that leaves one aching in its rawness.
As a means of celebratory promotion for the album, Mock Sun have filmed three music videos with Los Angeles based directors Joe Rubinstein and Elle Snyder. The first video of the three, titled Ear Wiz, can be found on YouTube.
While Hungry Mother is a vast and carefully complex piece of art, it is simply the love-child of two sound-obsessed, kindred spirits. North Eastern Pennsylvania nourished the growth of the deciduously like-minded artists who came to form Mock Sun. Mark Wohl writes, producers, and provides multi-instrumentation in the project while Jami Kali acts as lyricist, singer, and co-composer. All of Mock Sun's music is recorded and engineered by Wohl. The duo have been making music and performing together since 2011 and their relationship as fellow musicians continues to evolve.
Hungry Mother is an exemplary representation of the musical chemistry reacting between Kali and Wohl. In Thomas' words, "Kali lives and breathes creative self-expression and boundary-pushing aesthetic exploration" while Wohl is "a hydra-headed beast, boasting multiple heads in terms of not only the various instruments he plays, but also in [...] the post-production wizardry he uses to manipulate sounds that, otherwise, would never and could never exist."
Other Mock Sun releases, such as E.P.s and live recordings, are available on the duo's Bandcamp page (http://mock-sun.bandcamp.com). The pair also frequently share multimedia pieces on YouTube, Tumblr, and Instagram.
About theindie.biz
theindie.biz is the music industry's leading marketplace for indie music. Founded by Damon Cleveland in 2008, theindie.biz helps expose new music created by indie artists and indie labels to a global audience of music lovers and impassioned fans. theindie.biz has 20,000 registered artists members in rock, pop, hip hop, R&B, and other genres. Additionally, theindie.biz has over 200,000 likes on Facebook (http://www.facebook.com/theindiebiz) and more than 100,000 followers on Twitter (http://www.twitter.com/theindie). To learn more, please visit http://www.theindie.biz.