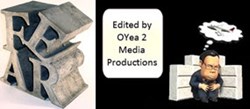 "I'm hoping to help defuse the "human time bomb" of FEAR with information and encouragement." --G Woodson
Charlotte, NC (PRWEB) December 30, 2013
Web-based business, Oyea 2 Enterprises, LLC, heralds the release of its FEAR Series Montage Video. The target market is all lifelong learners. Oyea 2 is continuing its multi-media presentations on the topic and is ramping up its releases for the post holiday season.
"OYea 2 has ported the FEAR project into an ongoing presentation. I offer the media pieces hoping to help defuse the 'human time bomb' with information and encouragement. Looking at fear in unique and creative ways provides insight into its origin and how it can be controlled. The paralysis of FEAR is critically important," reports Gerald Woodson, principle of the organization.
Oyea 2 Enterprises, LLC began its service to the Charlotte, NC music scene in 1984 as Oyea Music (BMI), a recording studio for solo musicians. Through the years, the company has expanded to include composition, audio post–production, and video production. Since earning a Master's Degree in Economics (1995), Woodson has engaged in extensive research of customer service and technical support in the emerging residential satellite industry (circa 2003). For the last 20 months, Oyea Music has been focused on expanding its marketing efforts into the online space. Consolidating its music, video, research, and writing expertise into one business entity, Oyea 2 Enterprises, LLC is the product engine.
The FEAR Series is presented as a multi-media barrage. Articles covering specific aspects of the emotion are accompanied by video montage, infographic, and photographic vignettes. The two primary messages of the series are: fear need not signal a crisis and fear (as debilitating stress) need not be followed by paralysis. To that end, the FEAR Series and Oyea 2 introduce a comprehensive exposé touted to guide those it serves while sharing the collective wisdom on the subject of fear.
To learn more about the new release, visit http://oyea2.com/fear-montage-is-live/.
About OYEA 2 Enterprises, LLC:
The mission of Oyea 2 Enterprises, LLC is to provide quality information on the pursuit of health, wealth, and happiness for raising self-awareness worldwide.
The vision is to express the mission through the distribution of information products (literature, music, and video) and related services.